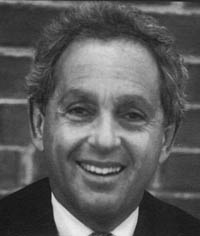 Welcome Dinner for the Class of 2004
Liberal Arts: What Are You Going To Do With It ?
HOWARD FIGLER
WEDNESDAY, SEPTEMBER 13, 2000
If you would like to find an answer to the above question without committing yourself to a predictable future, and without putting yourself in a box, you are invited to join the Dean of Students and the Athenaeum for a dinner and lecture specially arranged for CMC's freshmen class.

Howard Figler is eminently qualified to lead this discussion. Formerly the director of the Career Center at the University of Texas at Austin and nationally known author of the bestselling book The Complete Job-Search Handbook (3rd ed., 1999, Henry Holt), Figler earned his Diplomate in Counseling Psychology from the American Board of Professional Psychology, his Ph.D. from Florida State University, his MBA from New York University, and his B.A. from Emory University.

Figler will focus his remarks on issues that may affect important choices you will make throughout your career at CMC. The importance of emotional intelligence, the reasons why a liberal education is good for you and your career, and how to use resources at CMC to your best advantage will all be part of the evening's discussion.

All members of the freshmen class have already been signed up to attend the dinner and lecture by Howard Figler. If you find that you are unable to attend the dinner, please contact the Athenaeum (ext. 18244) to cancel your reservation.The 6:00 dinner is preceded by a juice and cheese reception at 5:30 p.m. Dr. Figier will speak at 6:45 p.m. and the evening concludes by 8:00 p.m.