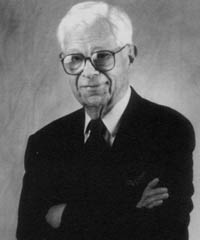 Forgive Us Our Press Passes
DANIEL SCHORR
MONDAY, SEPTEMBER 18, 2000
Veteran reporter-commentator Daniel Schorr, the last of Edward R. Murrow's legendary CBS team still fully active in journalism, currently interprets national and international events as Senior News Analyst for National Public Radio.

Schorr's career of more than six decades has earned him many awards for journalistic excellence, including three Emmys, and decorations from European heads of state. Civil liberties groups and professional organizations have also honored him for his defense of the First Amendment. In 1996, he received the most prestigious award in the field of broadcasting- the Alfred I. DuPont-Columbia University Golden Baton for "Exceptional Contributions to Radio and Television Reporting and Commentary."

His firsthand perspective on recent history broadens Schorr's analysis of current issues. In the U.S., he has covered government controversies ranging from Senator Joseph McCarthy's hearings on communism in 1953 to the Iran-Contra affair in the 1980s and 90s. Abroad, he has observed superpower summits from the Eisenhower-Khrushchev meeting in Geneva in 1955 to the Reagan-Gorbachev conference in Moscow in 1988.

In 1972, Schorr was assigned as CBS's chief Watergate correspondent. He unexpectedly found himself a part of his own story when the Senate hearings turned up President Nixon's "enemies list" with his name on it and evidence that the president had ordered him investigated by the FBI. This "abuse of a federal agency" figured as one count in the Bill of Impeachment on which Nixon would have been tried had he not resigned in August 1974.

Also in 1974, when the House of Representatives voted to suppress the final report of its investigations of CIA and FBI scandals, Schorr arranged for publication of the advance copy he had exclusively obtained. Suspended from CBS and threatened with jail for contempt, he refused to disclose his source on First Amendment grounds, saying that "to betray a source would mean to dry up many future sources for many future reporters.... It would mean betraying myself, my career, and my life." In the end, Congress decided against the contempt citation and CBS asked him to return; instead, he chose to resign in order to write his account of his stormy experience in his book Clearing the Air (1977). In his Athenaeum address, Schorr will discuss where journalists have gone wrong, why journalists rank so low with the public, and how journalism will survive the Internet.

Daniel Schorr's appearance at the Athenaeum is cosponsored by the Keck Center for Strategic and International Studies.