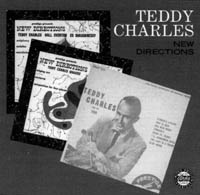 American Jazz Institute Chamber Orchestra: The Teddy Charles Tentet
TEDDY CHARLES, vibraphone
JOHN NAGOURNEY, vibraphone
MARK MASTERS, conductor, American Jazz Institute Chamber Orchestra
KYE PALMER, trumpet
DANNY HOUSE, alto saxophone
BILL PERKINS, tenor saxophone
BRIAN WILLIAMS, baritone saxophone
BILL ROPER, tuba
CECILIA COLEMAN, piano
PUTTER SMITH, bass
SHERMAN FERGUSON, drums
TOM HYNES, guitar
DAVE WOODLEY, trombone
PAUL KLINTWORTH, french horn
TUESDAY, SEPTEMBER 19, 2000
Along with Milt Jackson and Terry Gibbs, Teddy Charles ushered the vibraphone into the modern era. While influenced by the masters Lionel Hampton and Red Norvo, Charles had, by the late 1940s, assimilated the vocabulary of Charlie Parker and Dizzy Gillespie, making a name for himself as a vibes player during the heyday of bebop in New York.

Between 1952 and 1955 Charles recorded a series of groundbreaking albums for Prestige and New Jazz, called "New Directions, Volumes 1-5." Charles developed a compositional approach to jazz, eschewing standards in favor of unfamiliar, original material. His concept was to fully integrate the written and improvised sections of a jazz performance to provide new contexts and challenges for the artist.

Charles was a participant in the Charles Mingus Jazz Cornposers Workshop which also included such major talents as George Russel, Gil Evans, John LaPorta, Teo Macer, and many others with an interest in composition and experimentation. He subsequently formed the Teddy Charles Tentet- an unusual ensemble made up of three saxophones, trumpet, tuba, guitar, vibraphone, and rhythm section- whose recordings for the Atlantic label in 1956 have become classics. This music, fortunately reissued on compact disc, remains fresh and full of surprises some forty-three years after its initial release.

This is a rare and wonderful opportunity to meet and hear a performance by one of the great jazz artists of all time. The American Jazz Institute chamber ensemble, directed by Mark Masters, will perform the music of the Teddy Charles Tentet.