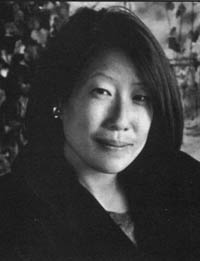 Cultural Identity in a Hyphenated America
GISH JEN
WEDNESDAY, SEPTEMBER 20, 2000
Gish Jen, a prominent Asian-American author, had to walk a long and strenuous road to pursue her career as a writer. Despite her family's insistence that she pursue "a more dignified and appropriate career," Gish Jen followed that which she knew best and has established herself as a well respected, highly acclaimed contemporary writer.

Her book Typical American (1991) was a New York Times notable book of the year and a finalist for the National Book Critics' Circle Award. Her second novel, Mona in the Promised Land (1996) was also a New York Times notable book and the Los Angeles Times named it one of the ten best books of 1996. One critic writes, one of the greatest charms of Gish Jen's fiction is her position as a bemused chronicler- of the way things are in this crazy mishmash of an America, of the power and the limitations of family roots, and of the hugely comic potential in human nature.

Gish Jen has written for The Atlantic Monthly, The New Yorker, The New Republic, and The New York Times. A story of hers was one of the twenty recently chosen by John Updike for Best American Short Stories of the Century (1999).

Gish Jen received her undergraduate degree in English from Harvard University in 1977, and an MFA from the Iowa Writers' Workshop in 1983. She comes to the Athenaeum as part of the series Crossing Borders.