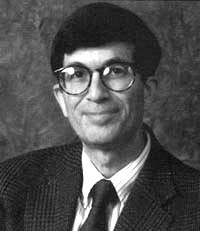 Cancer Myths and Realities
DAVID SADAVA
MONDAY, SEPTEMBER 25, 2000
One in every three Americans gets malignant cancer sometime in their lifetime, and one in four dies of it. This disease exacts heavy costs in human and economic terms. Is the rate of cancer in our population still rising? Can you get cancer from other people? Do things such as radiation from power lines or drinking coffee cause cancer? Are natural foods much less cancer-causing than foods from the supermarket? Has there been much progress in cancer treatment over the past decade? Does psychological well-being help to fight cancer? Are complementary medical treatments, such as Chinese herbs, valuable for cancer? Is gene therapy for cancer possible?

David Sadava, Pritzker Family Foundation Professor of Biology at CMC's Joint Science Center is active in cancer research, and teaches courses on the subject. He has just spent a year working on cancer chemotherapy at the City of Hope Medical Center while on sabbatical leave. Sadava has worked in this field for seven years, his prior interests being in cell biology and chemistry. He has a variety of research interests, ranging from the biochemistry of human development to plant physiology to the genetics of thoroughbred racehorses. He has coauthored with Claremont undergraduates over 30 research papers and is the author or coauthor of four books, including a leading general biology textbook and a book on plant genes and agriculture.

The U.S. "declared war on cancer" some time ago. You are invited to come to the Athenaeum for an update on how the war is going. Professor David Sadava's lecture is part of the series Faculty Ideas in Progress.