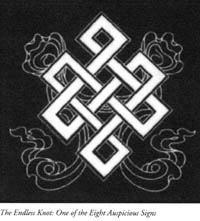 Tibet and Tibetans Since the Chinese Invasion
TASHI NAMGYAL
WEDNESDAY, SEPTEMBER 27, 2000
Tashi Namgyal served as joint Secretary of the Department of Security of the Tibetan Government-in-Exile (1998-1999). He was primarily responsible for the security of His Holiness the Dalai Lama. His previous position as Representative of His Holiness in Nepal (1993-1998) involved oversight of the refugee community of 20,000 Tibetans and liaison with other diplomatic missions in Nepal and the United Nations High Commission for Refugees.

The Chinese occupation forces reached the small nomadic encampment of Namgyal's family around 1957, bringing starvation and devastating thought-reform programs to Eastern Tibet. At age five or six, Namgyal escaped with neighbors and walked West across Tibet for two years. In Mustang, Nepal, the CIA-supported Tibetan guerilla force educated Namgyal and other boys (as noncombatants) in Buddhist scripture, foreign languages, and arithmetic, then sent them on to the first Tibetan-language schools established in India. Namgyal graduated from Delhi University in 1977 with a Bachelor of Commerce.

Asked to reconcile his devotion to the teachings of the Dalai Lama with his role in the Department of Security, Namgyal replied, "To protect His Holiness, you might have to use force against somebody, although His Holiness will not approve of that, but the life of His Holiness is more precious than anything else. You still pray for your enemy because his life is dear like your life."

Tashi Namgyal's visit to Claremont McKenna College is sponsored by the Keck Center for International and Strategic Studies.