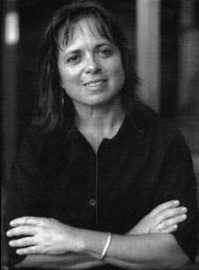 The Dying Road to a Nation
CHERRIE MORAGA
TUESDAY, OCTOBER 10, 2000
In 1974 poet, essayist, editor, storyteller, and playwright Cherrie Moraga showed poet Judy Grahn some other poems. After looking at them Grahn advised her "to do what nobody else can do, which is to write exactly from your own voice, the voices you heard growing up." As evident in her works, this is exactly what Cherrie Moraga has done.

Speaking from experience as a Chicano feminist lesbian Moraga has given a voice to issues such as sexism and homophobia in Chicano culture and addressed the urgent need for a feminism of color. As the daughter of a Mexican mother and an Anglo father, she writes about the phenomenon of being treated as "other" in America, even though she is native born.

Her plays "Shadow of a Man" (1988) and "Watsonville: Circle in the Dirt/Some Place Not Here" (1995) both won the Fund for New American Play Award and her play "Heroes and Saints" earned the Pen West Award for Drama in 1992. Her two most recent books include a collection of poems and essays entitled The Last Generation: Prose and Poetry (1993) and a memoir, Waiting in the Wings: Portrait of a Queer Motherhood (1997). Cherrie Moraga received the National Endowment for the Arts Theatre Playwrights Fellowship and is the Artist-in-Residence in the departments of drama and Spanish & Portuguese at Stanford University.

Moraga notes, "No one ever said to me, you should be a writer someday. But I went ahead and did it anyway." Her dedication to Chicano and lesbian issues has shown her to be a writer with an original voice unwilling to sacrifice her identity to fit in with traditional literary norms. As Moraga herself puts it, with technology taking over the world, she is one of the "last generation put on this planet to remember and record." Moraga appears at the Athenaeum as the second part of the series Crossing Borders.