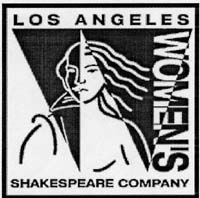 Scenes from Shakespeare
LOS ANGELES WOMEN'S SHAKESPEARE COMPANY
WEDNESDAY, OCTOBER 18, 2000
It is common knowledge that all-male casts originally performed William Shakespeare's plays. Now the tables have turned, thanks to the internationally recognized Los Angeles Women's Shakespeare Company (LAWSC), a nonprofit organization whose ongoing mission has been "to bring women's voices onto the stage and into the world, and to provide positive role models for women and girls...[and]to continue to create critically acclaimed, award-winning productions that transcend gender and race." Since 1993, they have staged seven major productions including Romeo and Juliet, Othello, Hamlet, Richard III, Measure for Measure, A Midsummer Night's Dream, and Much Ado About Nothing. These productions have won international acclaim, and have been featured on CNN and TNN.

Beside their stage productions, LAWSC has instituted an Outreach Program for high school and college-age women, and have made it a point to have girls act alongside adult actresses during their performances. LAWSC also has produced a series of gala evenings featuring some of the most inspiring actresses in Hollywood. Special guests have included such luminaries as Lynn Redgrave, Rue McClanahan, Sharon Gless, Susan Ruttan, Gates McFadden, Linda Hopkins, Denise Crosby and Kathy Bates, all appearing in scenes from Shakespeare with LAWSC's core company members.

Lisa Wolpe, Artistic Director of LAWSC, is on the faculty of Shakespeare & Company, Shakespeare Sedona and Southwick Studios in Boston, and currently teaches at the Massachusetts Institute of Technology.