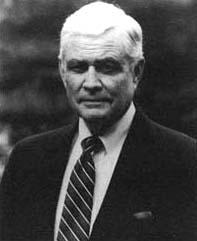 The Korean War: Personal Reflections
EDWIN SIMMONS
MONDAY, OCTOBER 23, 2000 12:15 p.m.
As a 29-year-old major in command of Weapons Company, 1st Battalion, 1st Marines, Edwin Howard Simmons landed at Inchon on 15 September 1950 during the Korean War. He took part in the epic Chosin (Chanjin) Reservoir campaign and other major offensives. He left Korea in late June 1951 after being lightly wounded. A veteran of three wars-World War II in the Pacific, Korea, and Vietnam-he likes to boast that he has commanded in combat, or been acting commander, of every size Marine unit from platoon to division. His 14 personal military decorations include the Distinguished Service Medal, the Silver Star, three Legions of Merit with Combat V, two Bronze Stars with Combat V, and a Purple Heart.

In 1972, upon retirement from active service, he returned to active duty to serve as the Director of Marine Corps History and Museums. He held this position for 24 years. General Simmons is a past president of the American Military Institute, the Council on America's Military Past, and the 1st Marine Division Association, and is a founder and past vice president of the Marine Corps Heritage (formerly "Historical") Foundation. His publications include award-winning Korean war novel, Dog Company Six (2000), The United States Marines: A History (1998), The Marines (1998), and a 68-page pamphlet history, Over the Sea Wall: U.S. Marines at Inchon (2000). At present he is writing a similar pamphlet history of the Chosin Reservoir campaign and a book-length history of the Marines in the First World War. General Simmons' luncheon speech is sponsored by the Keck Center for International and Strategic Studies. Lunch begins at 11:45 a.m. General Simmons will speak at 12:15 p.m.