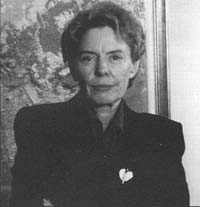 Year 2000: Global Issues
JEANE KIRKPATRICK
TUESDAY, OCTOBER 24, 2000
In 1979 Georgetown University Professor Jeane Kirkpatrick wrote a magazine article proposing changes in United States human rights policy. This article caught the attention of Governor of California Ronald Reagan, who was at the time considering a second bid for the Presidency. Two years later, Reagan was sworn in as President of the United States and appointed Kirkpatrick as the country's first female ambassador to the United Nations. President Reagan called her "a giant among the diplomats of the world."

Kirkpatrick has had a remarkable career outside of the United Nations. She is the author of four books: Good Intentions (1996), The Withering Away of the Totalitarian Estate . . . and Other Surprises (1991), The Reagan Phenomenon and Other Speeches in Foreign Policy (1983), and Legitimacy and Force: National and International Dimensions (1987). She is a regular contributor of op-ed articles in newspapers and journals including the Los Angeles Times, The New York Times, and The Washington Post. She has served as a member of both the Defense Policy Review Board and the President's Foreign Intelligence Advisory Board. She has received the Medal of Freedom, the highest civilian honor in the United States, as well as presidential medals from the Czech Republic and Hungary. She recently became the 50th recipient of the Friend of Zion Award from the Prime Minister of Israel.

Kirkpatrick is currently the Leavey Professor of Government at Georgetown University and testifies yearly before committees of the Senate and House of Representatives on national and international defense policies.

As a discerning scholar, political scientist, and advocate for America's foreign policy, Dr. Kirkpatrick is one of the modern era's experts on geopolitical issues. Her lecture at the Athenaeum is sponsored bv the Res Publica Society of CMC.