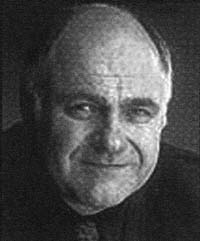 What Does Green Mean? How the German Green Party Differs from the American
REZZO SCHLAUCH
WEDNESDAY, NOVEMBER 1, 2000 12:15 p.m.
During the 1984 State Parliamentary election in Baden-Wuritemburg, a leading newspaper called Green Party candidate Rezo Schlauch "a stroke of luck." This judgment has been borne out by Schlauch's subsequent political successes, culminating in his 1998 election to the German Bundestag. In the current federal government headed by Gerhard Schroder, the Green Party is (along with the Social Democratic Party) part of the ruling coalition. Undeniably, Schlauch deserves some of the credit.

Rezzo Schlauch studied law at the Universities of Freiburg and Heidelburg, then practiced in Stuttgart before joining the Green Party in 1980. When serving in the State Parliament, he worked on ecological agriculture and the problems of rural regions. His special talent was for brokering compromise between radical environmentalists and conservative farming communities like the one in which he had grown up. As one journalist wrote, Schlauch combined "a broadly left-wing political consciousness with a strong attachment to his native soil and awareness of tradition." By 1995 Schlauch was a national figure. During the Bosnian war, the Green Party, which had long been committed to nonviolence, was divided over the question of whether Germany should join the NATO-led intervention. Green leader Joschka Fischer, now German Foreign Minister, took a pro-intervention stand, and the issue was decided when Schlauch agreed.

Today, after decades of grassroots activism and dissent, the Greens are on their way to becoming what Schlauch calls "a viable governing party." It has not been a smooth process, as he would be the first to attest. But it is a fascinating story, full of valuable lessons for anyone interested in the future of European politics. Rezzo Schlauch's Athenaeum talk is cosponsored by the European Union Center of California. Lunch will be served at 11:45 a.m. Mr. Schlauch will speak at 12:15 p.m.