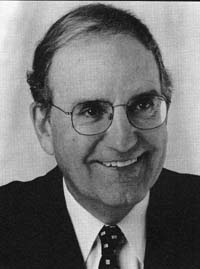 Making Peace in Northern Ireland
GEORGE MITCHELL, JR.
THURSDAY, NOVEMBER 16, 2000
4:00 p.m., MARY PICKFORD AUDITORIUM
Senator George Mitchell had an illustrious career in the United States Senate that spanned 14 years. He was first appointed in 1980 to complete the unexpired term of Senator Edmund Muskie, who resigned to become Secretary of State. He was elected to a full term in the Senate in 1982. In 1988 he was reelected with 81 percent of the vote, the largest margin in Maine history. For six consecutive years he was voted "the most respected member" of the Senate by a bipartisan group of senior congressional aides. In 1995 he left the Senate as the Majority Leader, a position he had held since January 1989.

Recently, Senator Mitchell served as chairman of the peace negotiations in Northern Ireland. Under his leadership a historic accord was agreed upon by the governments of Ireland, the United Kingdom, and the political parties of Northern Ireland. In 1998 the voters of Northern and Southern Ireland endorsed this agreement. Senator Mitchell's leadership in Northern Ireland earned him praise worldwide.

Senator Mitchell is the author of several books including Not For America Alone: The Triumph of Democracy and The Fall of Communism (1997), and World on Fire: Saving an Endangered World (1991). After leaving the Senate, Senator Mitchell joined the Washington firm of Verner, Liipfert, Bernhard, McPherson and Hand. He now serves as a director of Walt Disney Company, Federal Express Corporation, Xerox Corporation, UNUM Insurance Corporation, KTI Inc., Unilever, Staples, and Starwood Hotels and Resorts. Senator George Mitchell appears at the Athenaeum as one of the Claremont McKenna College Res Publica speakers.