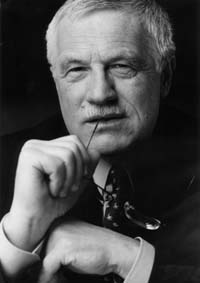 Creating Capitalism in Eastern Europe: The Czech Case
VACLAV KLAUS
THURSDAY, JANUARY 18, 2001
Vaclav Klaus is one of the most influential politicians in Eastern Europe, if not the most important politician in the area of post-communist economic transition. After two successful years as the first non-Communist finance minister, Vaclav Klaus was elected the Prime Minister of the Czech Republic and served until 1997. Although his center-right Civic Democratic Party did not win as many votes as the Social Democratic Party in the 1998 parliamentary elections, Klaus nevertheless was appointed Speaker of the Parliament, a position he holds to this day. In addition, since March of 1996, he has been vice-chairman of the European Democratic Union.

An anticommunist and a pro-market advocate for decades, Klaus is well known for his application of neoliberal strategies of economic reform to transition countries. Since Klaus has remained in office longer than any of his counterparts in other countries, he has been able to implement an aggressive strategy of capitalist transformation, a strategy that for many years made the Czech Republic the model case of postcommunist reform. He was responsible for drafting the model of mass privatization that was employed in one form or another in a dozen postcommunist countries.

A graduate of the Prague School of Economics in 1963, Klaus studied international economic relations and international trade. He has also worked for the Institute of Economics of the Czechoslovak Academy of Sciences and the Czechoslovak Central Bank. Dr. Klaus is a member of the Mon Pelerin Society and is the recipient of 19 international awards and 16 honorary doctorates. He continues to be widely published in both his homeland and around the world.

Vaclav Klaus's visit to CMC is cosponsored by the Res Publica Society of Claremont McKenna College and the Marian Miner Cook Athenaeum.