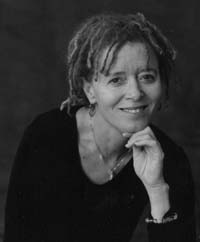 Traveling Mercies: Some Thoughts on Faith
ANNE LAMOTT
TUESDAY, JANUARY 30, 2001
Anne Lamott writes, "I think a lot of us felt saved by the written word when we were young. We were redeemed by literature. So a lot of people write, or dream of writing, because books have been such a gigantic help, such a source of illumination and pleasure." Through her words, both written and spoken, Lamott has connected with people worldwide concerning subjects as important as alcoholism, motherhood, and the search for faith.

All of Lamott's works take a very honest, humorous look at the subject in question. She gives a real perspective that helps people see humanity in all of its sadness, frustrations, joy, and compassion. Her works both inspire and provoke people to contemplate their own values. Lamott is the author of five novels: Hard Laughter (1981), Rosie: A Novel (1983), Joe Jones (1985), All New People: A Novel (1989), and Crooked Little Heart (1997). She has also written three bestselling works of nonfiction: Operating Instructions: A Journal of My Son's First Year (1993), an account of life as a single mother during her son's first year; Bird by Bird: Some Instruction on Writing and Life (1995), a guide to writing and the challenge of a writer's life; and Traveling Mercies: Some Thoughts on Faith (2000), a collection of autobiographical essays on faith.

Lamott has been honored with a Guggenheim Fellowship and has taught at UC Davis and at writing conferences across the country. Lamott's biweekly Salon Magazine online diary "Word by Word" was voted The Best of the Web by Time. Moreover, filmmaker Freida Mock has made a documentary on Lamott entitled "Bird by Bird with Annie" (1999). Lamott appears at the Athenaeum as part of the series Women and Spirituality sponsored by the Gould Center for Humanistic Studies.