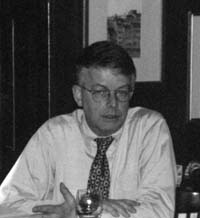 Russia's Stalled Transition
TIMOTHY COLTON
MONDAY, FEBRUARY 12, 2001
Ten years ago the Soviet Union ceased to exist. The
new, post-Soviet Russia has borne out some of the
hopes that were afoot a decade ago about a smooth
"transition" from dictatorship to democracy and
from a command economy to a market economy. But many
hopes have not been fulfilled, and the accession to power of a
new president, Vladimir Putin, has raised fears that Russia may
revert to previous authoritarian ways.
Professor Timothy Colton will evaluate the new Russia's
progress from several points of view, including those of the
Russian people themselves, and assess the prospects for progress
toward a liberal society and politics.
Professor Colton received his B.A. and M.A. degrees from
University of Toronto and his Ph.D. from Harvard University.
He is the Director of the Davis Center for Russian Studies
(formerly Russian Research Center) at Harvard, and is the
Morris and Anna Feldberg Professor of Government and Russian
Studies at Harvard University.
Professor Colton is the author of several books including
Transitional Citizens: Voters and What Influences Them in the
New Russia (2000); Moscow: Governing the Socialist Metropolis (1996) (winner of
award for best scholarly book in government and political science
by the Association of American Publishers); and editor of Patterns in Post-
Soviet Leadership (1995).
The Keck Center for International and Strategic Studies and
the Marian Miner Cook Athenaeum are pleased to co-sponsor
Professor Colton's visit to Claremont McKenna College.