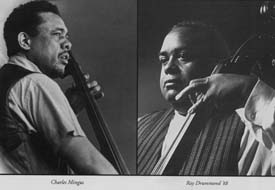 American Jazz Institute Orchestra: Celebrating Mingus
RAY DRUMMOND '68, bass
MARK MASTERS, conductor, American Jazz Institute Orchestra
LES LOVITT, trumpet
LES BENEDICT, trumpet
BRIAN WILLIAMS, baritone
JERRY PINTER, saxophone
STEPHANIE O'KEEFE, french horn
BILL ROPER, tuba
CECILIA COLEMAN, piano
SHERMAN FERGUSON, drums
TUESDAY, FEBRUARY 20, 2001
Like so many other former CMC students, Ray Drummond faced a dilemma shortly after graduation: should he pursue a career as a business executive or follow his passion and become a full-time jazz musician? It was a lucky day for Drummond, the jazz world, and CMC when he decided to see how far his musical talents could take him.

Since making that decision, Drummond has demonstrated his prowess on the bass, working with such artists as Art Farmer, David Murray, Houston Person, Stan Getz, Kenney Burrell, and Ray Bryant in over two hundred recordings. Drummond has also made seven of his own recordings including Camera in a Bag (1989), Excursions (1993), and Vignettes (1995). Gene Santoro, writing for the Daily News, once said that "Drummond create[s] elastic rhythmic textures that [keep] the soloists sharp and the crowd's feet tapping. It's the kind of effect that everyone feels but only musicians hear." One assumes it was worth scrapping his day job.

A superb bassist, Drummond is also well known as a composer, conductor, producer, and instructor. He has taught at music schools all over the world, including the Stanford Jazz Workshop, the Berklee School of Music, the University of Massachusetts, and the Sibelius Academy of Music in Helsinki, Finland. Please join the Athenaeum in once again welcoming back one of CMC's greatest alumni as he celebrates the music of another famed bassist, Charles Mingus. Ray Drummond will be performing with the American Jazz Institute Orchestra.