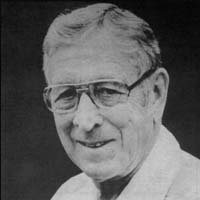 They Call Me Coach
JOHN WOODEN
TUESDAY, FEBRUARY 27, 2001
"Success is peace of mind that is a direct result of self-satisfaction in knowing you did your best to become the best you are capable of becoming."

-John R. Wooden

John Wooden-named "Coach of the Century" by ESPN-will be the guest of honor at a special dinner and program at the Marian Miner Cook Athenaeum, where he will receive the prestigious Henry Kravis Leadership Award. The evening will also serve to recognize the student athletes and coaches of the CMS (Claremont McKenna, Harvey Mudd, Scripps) athletic program.

Coach Wooden is regarded as the greatest coach in college basketball history. He guided UCLA to 88 consecutive wins, a college basketball record, en route to an unprecedented record of 10 NCAA basketball championships in twelve years from 1964 to 1975. He is the only man elected to the Naismith Memorial Basketball Hall of Fame both as a player and a coach. Coach Wooden's numerous awards include the Sporting News and Sports Illustrated "Sportsman of the Year," and the Whitney Young Urban League Award for Humanitarian Service, and most recently "Coach of the Century" by ESPN.

Respect for Coach Wooden goes beyond his successful career at UCLA. Denny Crum, UCLA '59, head basketball coach, University of Louisville, writes, "Everyone who has ever coached understands that organizing players on the floor is only a small part of a coach's role. A good coach emphasizes preparation, dedication, teamwork, responsibility and accountability. He or she must be a teacher and a role model. Coach Wooden is the perfect role model not only for anyone who aspires to be a successful coach, but anyone who wants to be a productive citizen."

Books authored by John Wooden include: Wooden: A Lifetime of Observations and Reflections On and Off the Court (1997); Practical Modern Basketball (1966); They Call Me Coach (1972), and Be Quick But Don't Hurry: Management Secrets from John Wooden's Pyramid of Success (with Andrew Hill, 2001).

Dinner reservations are for CMC persons only. The program will be held in the Athenaeum with overflow seating in McKenna Auditorium, where there will be live, remote video projection.