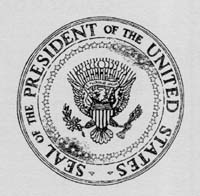 Triumphs and Tragedies of the Modern Presidency
DAVID ABSHIRE
WEDNESDAY, MARCH 7, 2001 LUNCH
What factors contribute to an effective Presidency? Why were some Presidents successful in their relations with Congress and with foreign leaders- and others not? What is the impact of the "First Hundred Days" in office? David Abshire discusses how different Presidents have walked, stumbled, and climbed up to definitive moments in their Presidencies.

Prepared originally by the Center for the Study of the Presidency as a nonpartisan guide to help the President Elect 2000 better understand the potential pitfalls and unintended consequences of his actions, Triumphs and Tragedies of the Modern Presidency (2001) now makes available to every American the unique insights of these insiders as they guide the reader through the stories behind the headlines, the thinking behind the decisions, the personal struggles, the politics, the disappointments. Rich in humanity as well as in history, it is invaluable to the understanding of the tumultuous events of the past eighty years, told in everyday terms by some of our greatest journalists and Presidential scholars.

Abshire is president of the Center for the Study of the Presidency and vice chairman of the board of the Center for Strategic and International Studies in Washington, D.C. The Center for the Study of the Presidency was inspired by President Dwight Eisenhower and founded by R. Gordon Hoxie. After 30 years in New York it has recently moved its offices to the nation's capital. It publishes Presidential Studies Quarterly, hosts student conferences, prepares policy reports for the President.