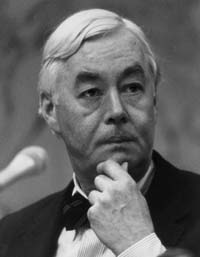 Inaugural Pacesetter Fellow
A Dahrendorf Inversion? The Twilight of Family in the North Atlantic Region
DANIEL PATRICK MOYNIHAN
JAMES Q. WILSON, introduction
MONDAY, MARCH l9, 2001
For most people, twenty-four years in the Senate would be career enough. But for Daniel Patrick Moynihan, service as the distinguished senior senator from New York is only one thread in a rich tapestly that stretches from the mean streets of Manhattan to national and international prominence.

Senator Moynihan grew up in the Hell's Kitchen section of New York and was educated in parochial and public schools before serving in the Navy during World War II. He then earned his doctorate from the Fletcher School of Law and Diplomacy, worked for New York Governor Averell Harriman, and held sub- Cabinet and Cabinet positions under four successive presidents (Kennedy, Johnson, Nixon, and Ford). He was also Ambassador to India, U.S. Representative to the United Nations, and president of the U.N. Security Council. His distinguished scholarly career includes teaching at Harvard and M.I.T. and writing or editing eighteen books.

Add devoted service on numerous boards, from the American Association for the Advancement of Science to the Smithsonian Institution, 64 honorary degrees, and countless medals and awards (including, most recently, the Presidential Medal of Freedom), and you have the bare outline of this extraordinary life. To quote the words that accompanied the 1998 Heinz Award for Public Policy, Senator Moynihan has been "a distinct and unique voice in this century, independent in his convictions, a scholar, teacher, statesmen and politician, skilled in the art of the possible."

Senator Moynihan will be introduced by James Q. Wilson, emeritus professor of management and public policy at UCLA and Ronald Reagan professor of public policy at Pepperdine.

Senator Moynihan's visit to CMC is made possible by CMC classes of '48, '49, and '50, who are responsible for the creation and funding of the Pacesetter Fellowship.

The dinner is available for CMC persons only. The lecture by Sen. Moynihan is open to all without charge.