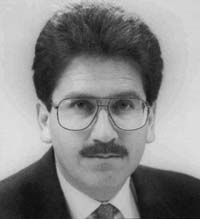 Shifting Identities: From CMC Grad to UCLA Professor
STEVE LOPEZ '75 P'01
MARCH 20, 2001
What does it mean for mental health professionals to be competent in providing services to culturally diverse communities? Steven Lopez, a member of the psychology faculty of UCLA, has committed his expertise to answering this very question. His main area of research concerns the study of how sociocultural factors influence the psychopathology, assessment, and intervention of Latinos and other ethnic minority groups. More recently he has been studying how families react to relatives with schizophrenia, particularly Latino families.

Born and raised in Tucson, Arizona, Steven Lopez obtained his undergraduate and graduate education in California at Claremont McKenna College and UCLA, respectively. He received his bachelor's degree in 1975 and his doctorate degree in 1983. Lopez was a member of the psychology faculty at the University of Southern California from 1982 to 1991.

Lopez has published numerous journal articles and book chapters on this topic and is a fellow of Division 45 of the American Psychological Association. In addition to his research, he maintained a clinical practice for several years in both public and private mental health facilities. He also has been a consultant to numerous mental health and health organizations on how to improve their staff's cultural competence. From 1995-99 he directed a summer research training program for U.S. minority students in Mexico City in collaboration with the Instituto Mexicano de Psiquiatria and the Universidad Nacional Autonoma de Mexico.

Steven Lopez is the father of CMC student Jessica '01 and is the third speaker in the series featuring parents of CMC seniors.