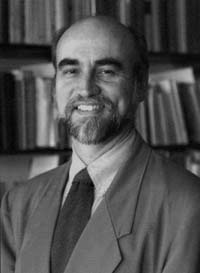 The Great Elements and the Continuity of Life: Ecology in Hinduism and Jainism
CHRISTOPHER KEY CHAPPLE
TUESDAY, MARCH 27, 2001
Ancient India viewed the physical world in terms of a an ever-creative vortex comprised of earth, water, fire, and air emerging from, occupying, and dissolving into space. Intimacy with one's own self through meditation and ritual revealed cosmic connections between the microphase and macrophase aspects of human experience. Hindu and Jaina thinkers regarded life to be a continuous flow of interchanging bodies through various forms of manifestation. By techniques of purification one could ascend to increasingly rarefied states of consciousness that reveal this network of connections. The resulting lifestyle, rooted in vegetarianism and nonviolence toward all life forms, created a type of proto-ecology in ancient India that finds new expression in today's postmodern, rapidly industrializing India. In his lecture Chapple will survey ecological themes in ancient Hindu and Jaina literature and discuss some contemporary expressions of indigenous ecology in India, including the Chipko movement, the resistance to the Narmada Dam project, and the tradition of the sacred grove.

Christopher Key Chapple grew up in the western New York countryside. At the age of eighteen he joined Yoga Anand Ashram, a mediative community on Long Island, where he trained in classical Yoga for over twelve years. Simultaneously, he studied Tibetan and Sanskrit at the State University of New York at Stony Brook, where he majored in Comparative Literature and Religious Studies. He completed his doctorate at Fordharn University in New York City under the guidance of Thomas Berry, Jose Pereira, and John Chethimattam. For five years he served as Assistant Director of the Institute for Advanced Studies of World Religions at SUNY Stony Brook, where he also taught Sanskrit and Asian religions. In 1985 he joined the faculty of Loyola Marymount University, Los Angeles, where he currently serves as Professor of Theological Studies and Director of the Asian and Pacific Studies Program. Dr. Chapple has published ten books, including several on Indian thought. In the area of ecological studies, he has published Nonviolence to Animals, Earth, and Self in Asian Traditions (1993), Ecological Prospects (1994), Hinduism and Ecology (2000), and the forthcoming Jainism and Ecology (2001). The latter two volumes are being distributed by Harvard University Press as part of the activities of the Forum on Religion and Ecology, for which Dr. Chapple serves on the advisory board.

This lecture is third in a series funded by CMC alumnus, L.J. Kutten '74. A vegan dinner will be served.