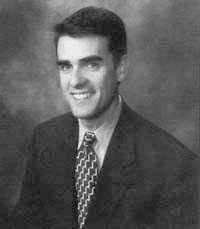 Don't Ask, Don't Tell: A Soldier's Journey
STEVE MAY '93
THURSDAY, MARCH 29, 2001
Since graduating from CMC in 1993 with a double major in Psychology and PPE (Politics, Philosophy and Economics), Steve May has had a spectacular career: he is currently a second-term representative in the Arizona State Legislature, the Executive Vice President and Chief Operations Officer of his family's nutritional foods business and has served as a distinguished US Army Lieutenant. During his two years of active duty, May was considered one of the Army's brightest young officers and was one of the few soldiers in the world qualified as both a submariner and a paratrooper. After leaving the regular Army in 1995, May remained in the Army Reserves while he pursued his political vocation. However, these two careers were to come into direct conflict when Rep. May made references to his homosexuality (made public during his first campaign a year earlier) during a debate over a bill that forbade government agencies from offering fringe benefits to same-sex domestic partners.

The Army launched an investigation in April 1999 to determine whether May had violated the Army's "don't ask, don't tell" policy and should subsequently be given an Honorable Discharge from the Reserves. May's lawyers argued that his statements did not violate the military's policy because he made them not as a soldier, but as a civilian. Though the initial tribunal ruled in favor of the Army, May recently won on appeal and the Army has dropped the case entirely. May is the first soldier to have successfully challenged the military on this issue.

May is currently serving as the chairman of the Ways and Means Committee of the Arizona House, and also serves on the Committees of Commerce and Economic Development, Public Institutions and Rural Affairs, and Financial Institutions and Insurance. In his Athenaeum address May will be discussing his views on the US Military's homosexual policy as well as his personal experience with it.