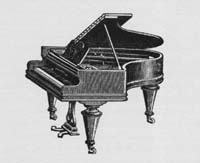 Senior Recital
WENDY KAO '01, piano
MICHAEL DEANE LAMKIN, conductor, Claremont Concert Orchestra
TUESDAY, APRIL 3, 2001
It took CMC senior Wendy Kao five years to convince her mother to pay for piano lessons. Since that first lesson at age nine (when she confidently informed her instructor that the next note after "G" was "H") Kao has come a long way. Since coming to college, she has fostered her musical curiosity studying piano under Scripps College Music Department professors Dr. Hao Huang and Annie Lin. She has also studied piano with Janet Ho, Kai-li Peng, and May Hsieh. Although Kao is an economics-accounting major and maintains that piano is "just a hobby," in the past three years she has actively accompanied numerous chamber music ensembles, including the Claremont Concert Orchestra. She has also performed at the Athenaeum for Parent's Day receptions and awards banquets. Originally from Taipei, Taiwan, Kao is the publisher for the five-college newspaper Collage and enjoys mixed media art in her spare time.

For her Athenaeum recital, Kao will perform solo works by Beethoven, Ravel, and Rachmaninoff as well as a piano and orchestral work by Chopin with the Claremont Concert Orchestra conducted by Dr. Michael Deane Lamkin, Scripps Dean of Faculty.

Lamkin has conducted an annual concert series with the Claremont Concert Orchestra and Concert Choir, whose program has included Beethoven's Ninth Symphony and Missa Solemnis, Haydn's Creation, and Mozart's Requiem and Mass in C. Lamkin is the Managing Director of the Classical Music Festival in Einsenstadt, Austria and is also a frequent guest conductor of opera, symphony, and choral concerts in Germany, Austria, and the United States.