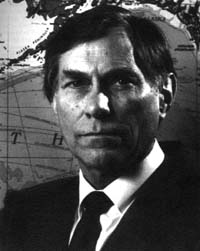 Reshaping Places: Examples From the Pacific Islands
R. GERARD WARD
THURSDAY, APRIL 5, 2001
Geography is perhaps the most underrated, or at least most misunderstood, science in practice- far more than maps and atlases, it is the study of "the surface of the earth, its division into continents and countries, and the climate, plants, animals, natural resources, inhabitants and industries of the various divisions [of the Earth]." Is there anything this subject does not cover?

Besides being one of the world's leading geographers, R. Gerard Ward currently serves as the President of the Pacific Science Association and as Emeritus Professor at the Australian National University. Ward was born in New Zealand and holds his B.A. and M.A. from the University of New Zealand and his doctorate from the University of London. From 1971 to 1998 he served as Professor of Human Geography at the Australian National University as well as its Director of the Research School of Pacific and Asian Studies from 1980-1993. He has also served as Foundation Professor of Geography in the University of Papua New Guinea from 1967-71 and held posts at University College London and the University of Auckland. He has either edited, contributed to or written eleven books including American Activities in the Central Pacific 1790-1870 (8 volumes, Gregg Press, 1966-7), Man in the Pacific Islands (Clarendon Press, 1972), The Settlement of Polynesia: A Computer Simulation (University of Minesota Press, 1973), and Land Custom and Practice in the South Pacific (Cambridge University Press, 1995).

In his Athenaeum address, Professor Ward will discuss his current interest in the concepts of distance and isolation, how we put our own boundaries around places and how we use these perceptions in our everyday lives. This lecture is sponsored by the Roberts Environmental Center.