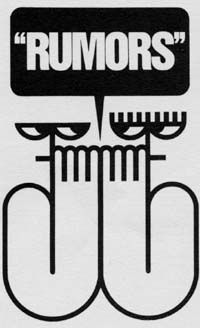 A Special Notice to the CMC Community
Dinner Theater
Rumors by Neil Simon
FRIDAY, APRIL 20, 2001 6:00 p.m.
SATURDAY, APRIL 21, 2001 11:30 a.m.
SATURDAY, APRIL 21, 2001 6:00 p.m.
Under the Lights has been delighting audiences at CMC for decades, and this year's annual dinner theater will be no exception. The completely student-run theater group is proud to present Rumors (1988)-an uproarious farce by one of America's favorite playwrights, Neil Simon.

Four couples are at the townhouse of a deputy New York City Mayor and his wife to celebrate their tenth wedding anniversary. The parry never begins because the host has shot himself in the head-it's only a flesh wound-and his wife is missing. His lawyer decides on a cover-up, which gets progressively more difficult to sustain as the other guests arrive and nobody can remember who has been told what about whom. Doors slam and hilarity abounds as the couples get more and more crazed trying to sort things out.

The cast: Gina Banks '03, Drew Bloomingdale '02, Megan Brotherton '04, Christiana Dominguez '01, Dan Guerra '02, Rebecca Hermanowicz '03, Ahmar Iqbal '03, Navid Mehrjou '03, Justin Shiroff '02, and Brad Wease '01.

The play will last two hours, and does contain adult language-which is all the more reason for you to come and cheer on your classmates! The annual Dinner Theater is brought to you by Under the Lights, ASCMC, and the Marian Miner Cook Athenaeum.

Claremont Colleges students, faculty, and staff -NO CHARGE
Community guests -$13.50 per person

Seating will be festival style and is limited. Sign up as soon as possible, circling your first, second, and third choice of date. You will be contacted if your first choice reservation date is unavailable.