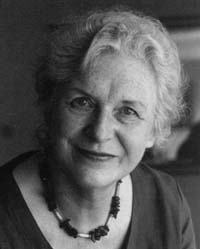 Podlich Distinguished Fellow
Darwin and the Former Giants
GILLIAN BEER
TUESDAY, APRIL I0, 2001
Gillian Beer has explored the relations of the two cultures of science and
literature. Her landmark book
Darwin's Plots: Evolutionary Narrative in Darwin, George Elliott and 19th Century Fiction
(1985) demonstrates how Darwin
overturned fundamental cultural assumptions by revising stories that he inherited from
writers as diverse as Lucretius, Shakespeare, and Wordsworth. She also reveals how
major English novelists such as George Eliot and Thomas Hardy pursued and resisted
the implications of Darwin's narratives, and how the stories he produced about natural
selection and the struggle for life now underpin our culture. Beer's
Open Fields:
Science in Cultural Encounter
(1996) addresses these and similar questions
about the relations of science and literature, encompassing not only Darwin but
Helmholz, Kelvin, Frazer, Tyndall, and Hopkins.
Dame Beer is King Edward VII Professor of English Literature at Cambridge University and President of Clare Hall, the graduate college. Her previous books include Arguing with the Past: Essays in Narrative from Woolf to Sidney (1989), Forging the Missing Link: Interdisciplinary Stories (1993), and Virginia Woolf the Common Ground: Essays by Gillian Beer (1997). She has also been chair of the Booker Prize Committee.
Professor Beer joins us as Podlich Distinguished Fellow from March 23 until April 18. She will be joined by her husband, Professor John Beer, also of Cambridge University, a distinguished scholar of English romantic literature.