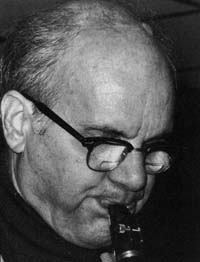 American Jazz Institute Big Band: An Evening with John La Porta
JOHN LA PORTA, clarinet, tenor saxophone
MARK MASTERS, conductor, American Jazz Institute Big Band
SCOTT ENGLEBRIGHT, LES LOVITT, KYE PALMER, RON STOUT, trumpet
DANNY HOUSE, RAY REED, BRIAN WILLIAMS, JERRY PINTER, woodwind
LES BENEDICT, DAVE WOODLEY, BOB MCCHESNEY, PETE BROCKMAN, trombone
MILCHO LEVIEW, piano
PUTTER SMITH, bass
RANDY DRAKE, drums
WEDNESDAY, APRIL 11, 2001
John La Porta's . . . cool tone and very advanced style (influenced by Lennie Tristano) seemed to be making him the Lee Konitz of the clarinet. He played with the big bands of Bob Chester (1942-44) and Woody Herman (1944 46) but more importantly recorded with Tristano in 1947. La Porta studied with Tristano and six years later was part of the Jazz Composers' Workshop with Charles Mingus and Teo Macero, seeking to bring elements of classical music into jazz. La Porta recorded with Mingus in 1954 . . . and led sessions for Debut, Fantasy, and Everest during the years 1954-58
.
-Scott Yanow
In addition to his career as a performer, John La Porta has taught during six decades, most notably at The Berklee College of Music in Boston, and is the author of numerous educational texts.
A highlight of his performing and recording career was as clarinet soloist in Igor Stravinsky's Ebony Concerto (1946) recorded for the Everest record label. La Porta participated in the 1957 Brandeis Music Festival, an important event in the development of the "Third Stream," a school of thought bringing the classical and jazz worlds together musically. John La Porta has recorded with Miles Davis, Charlie Parker, Lester Young, Charles Mingus, Dizzy Gillespie, Max Roach, Ray Brown, Lennie Tristano, Buddy Rich, Fats Navarro, and many others.
Please join us for an evening of jazz at the Athenaeum, featuring John La Porta and The American Jazz Institute Big Band.