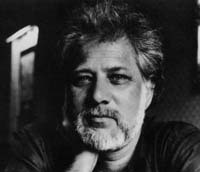 An Evening with Michael Ondaatje
MICHAEL ONDAATJE
THURSDAY, APRIL 19, 2001
Writing poetry and fiction, momentarily clutching his Asian heritage then spinning it off like a jitterbug partner, Ondaatje and his imagination can leap continents in a single paragraph.

-Voice Literary Supplement

Michael Ondaatje, a Sri Lanka native and now a Canadian citizen, fuses jazz rhythms, film montage techniques and profoundly beautiful language into his own unique writing style.

In his landmark novel, The English Patient, later made into the Academy Award-winning film, Ondaatje explores the history of people history does not explore, intersecting four diverse lives at the end of World War II. Published in 1992, The English Patient received the British Commonwealth's highest honor-the Booker Prize- the first and only such award for a Canadian. The English Patient is now available in 32 countries and in 30 languages. His other novels include Coming Through the The Slaughter (1976), about the American jazzman Buddy Bolden, which won the Books in Canada First Novel Award in 1976, Running in the Family (1982) and In the Skin of a Lion: A Novel (1997).

Although best known as a novelist, Ondaatje's work encompasses memoir, poetry, and film. In fact his career began as a poet with The Dainty Monsters (1967). He has since published nine other books of poetry, including The Collected Works of Billy the Kid (1970), There's a Trick with a Knife I'm Learning to Do (1980), both of which won the Governor General's Award, and The Cinnamon Peeler: Selected Poems (1991. Handwriting (1999), his most recent work, and the first since The English Patient, is a collection of poetry that resonates with images of life in his native Sri Lanka.

The dinner with Michael Ondaatje is open to CMC persons only. The talk is open to all; seating is limited.