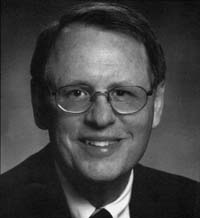 Take Nothing Good for Granted
JOHN ROTH
MONDAY, SEPTEMBER 10, 2001
John K. Roth, esteemed professor and distinguished scholar, will address members of the freshmen class at a special dinner welcoming them to Claremont McKenna College. All members of the Class of 2005 are automatically signed up for the dinner, and therefore must call the Athenaeum (ext. 18244) to cancel the reservation in order to eat in Collins Dining Hall.
Professor Roth is the Russell K. Pitzer Professor of Philosophy at CMC, where he has taught since 1966. He returned to CMC this fall after a sabbatical year that took him to England. There he held the Koerner Fellowship for Study of the Holocaust at the Oxford Centre for Hebrew and Jewish Studies. Earlier sabbatical opportunities have taken him to Switzerland, Austria, Japan, Israel, and Norway as well as to Harvard and Yale. This year, Roth will chair CMC's Department of Philosophy and Religious Studies. He will also continue to teach in the College's Philosophy, Politics and Economics (PPE) program, which he has done since its founding in the mid-1980s.
In addition to service on the United States Holocaust Memorial Council in Washington, D.C., and on the editorial board for Holocaust and Genocide Studies and other scholarly journals, Roth has written, coauthored, or edited more than thirty books, including The Questions of Philosophy (1998), Private Needs, Public Selves: Talk about Religion in America (1997), Ethics after the Holocaust: Perspectives, Critiques, and Responses (1999), and major contributions to The Holocaust Chronicle (2000). His most recent book, Holocaust Politics, will appear in October. Roth's awards include his being named the 1988 U.S. National Professor of the Year by the Council for Advancement and Support of Education (CASE) and the Carnegie Foundation for the Advancement of Teaching.
Professor Roth's experiences at CMC and as a Holocaust scholar will be the points of departure for his Athenaeum talk. Persons wishing to attend just the lecture may arrive at 6:45 p.m. for a live remote broadcast into Parents Library