Athenaeum Location
Print Newsletter
September 24, 2001
Vol. 17, No. 02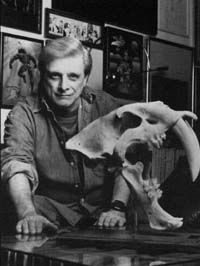 The Flight of the Curmudgeon: A Difficult Evening with Harlan Ellison
HARLAN ELLISON
MONDAY, SEPTEMBER 24, 2001
Called "one of the great living American short story writers" by the Washington Post Book World, Harlan Ellison is perhaps unequaled in the world of fantasy fiction. We are grateful that Ellison is willing to take a break from his busy writing and convention schedule to come to the Athenaeum.

"Repent, Harlequin," Said the Ticktockman (1965) and I Have No Mouth & I Must Scream (1967) are among his 75 novels and some 1700 short stories, essays, and articles. Over his 50-year career, Ellison has touched every imaginable medium. He has created fantasies for The Twilight Zone, The Outer Limits, Star Trek, and Babylon 5. To gain background on juvenile delinquency for his first novel, Ellison took an assumed name and joined a kid gang in Brooklyn for ten weeks. More recently, he completed projects with National Public Radio and published his first computer game, despite never owning a computer himself. Ellison is currently working with Miramax's Dimension Films to develop a theatrical feature based upon an Outer Limits script.

Ellison has been the recipient of the Writers Guild of America Most Outstanding Teleplay Award an unprecedented four times. He won the Mystery Writers of American Edgar Allan Poe Award, the Horror Writers Association Lifetime Achievement Award, and the Ray Bradbury Award, among many others. His script for Star Trek, "City on the Edge of Forever," became perhaps the best-loved episode of the series.

Known for actually creating stories in the windows of bookstores from Paris to New York in full view of large audiences, Ellison is no ordinary author on the speaker's circuit. In his "performance" at the Athenaeum, Ellison will draw on his fifty-year career for what promises to be an interesting and unusual evening.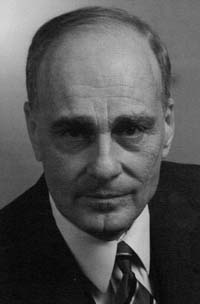 The Betrayal of America: How the Supreme Court Undermined the Constitution and Chose Our President
VINCENT BUGLIOSI
TUESDAY, SEPTEMBER 25, 2001
Perhaps the greatest prosecuting attorney ever to have served, Vincent Bugliosi won convictions in 105 of 106 of his felony cases during his career with the Los Angeles District Attorney's Office. Bugliosi entered the public's consciousness with his successful prosecution of Charles Manson for the Tate-LaBianca murders, which he details in the New York Times #1 bestseller Helter Skelter: The True Story of the Manson Murders (1995).

Bugliosi again reached the Bestseller list with And the Sea Will Tell (1991) and OUTRAGE: The Five Reasons Why O.J. Simpson Got Away With Murder (1996). His most recent book is The Betrayal of America: How the Supreme Court Undermined the Constitution and Chose Our President (2001). In his Athenaeum address Bugliosi will draw from The Betrayal of America to argue that the December 12, 2000 ruling by the US Supreme Court, effectively handing the election to George W. Bush, was a betrayal and treasonous. Rather than acting as an impartial arbiter of the law, he says, the Court "committed the unpardonable sin of being a knowing surrogate for the Republican Party." The five conservative justices are "criminals in the very truest sense of the word," Bugliosi asserts. Declaring that a clear theft of the election occurred, he argues that although no statute specifically prohibits election theft, the action is malum in se (wrong in itself) and accordingly is criminal.

Please join us for what promises to be a provocative and stimulating discussion. Vincent Bugliosi's lecture is sponsored by the Kravis Leadership Institute. The dinner is available to CMC persons only. The lecture is open to all.
Claremont Colleges Debate Union: The United States Should Use Force to Make Peace
BRENDAN BEHAN '03
ANDREA FITANIDES '02
CHRISTINA ELMORE
ADRIENNE HALL, moderator
DANIEL ROSENGARD '04
WEDNESDAY, SEPTEMBER 26, 2001
Aleady defined by President George W. Bush as the "first war of the 21st century," the attacks on the World Trade Center and the Pentagon, with the subsequent loss of thousands of lives, has prompted serious inquiry of defense and security preparedness, the risks of an open society, and the value of preventive diplomacy.

What is the appropriate course of action to address new security challenges? Is it time to 'get tough with terrorists' and exact a punishment for crimes against the innocent? Is it enough to form a global coalition to combat terrorism or is unilateral military action a necessary tool of foreign policy?

Members of the award-winning Claremont Colleges Debate Union will argue the issues concerning an effective U.S. response to recent events. Andrea Fitanides, CMC '02, a philosophy major from Northern California, was an award winner at the 2000 national debate championship. She recently served as summer faculty at debate workshops in Estonia, Slovenia, and Russia. She is the student director of the Southern California Urban Debate League, an educational outreach program supporting debate activities in schools in economically marginalized communities.

Brendan Behan, CMC '03, is a Chicano Studies major, with a focus on Gender and Feminist Studies. He won the 2000 National Round Robin Debate Championship, an event featuring the top ten debate teams in the United States. In addition, he participated in the first college Spanish-language debates in the United States.

Christina Elmore, POM '04, placed third in the nation in her first year of debate competition. She is currently ranked among the top ten teams in the nation.

Daniel Rosengard, CMC '04, is a philosophy major from Southern California. He is the director of public debate and discussion projects for the Debate Union and an award-winning debater in national tournament competition.

The Claremont Colleges Debate Union is the largest college debating society in the United States, with student participation in parliamentary, policy and public contest debating, as well as noncompetitive public debate, discussion and education programs. The organization has been notably successful in intercollegiate competition, ranking in the top ten in the nation for seven consecutive years. The Debate Union was the only debate program in the United States to rank in the top ten in three competitive debating formats in 2000.

This debate is sponsored by the Claremont Colleges Debate Union and the Marian Miner Cook Athenaeum. The debate will feature a modification of parliamentary debate, a form emphasizing serious extemporaneous argument and a witty, oratorical style. Audience participation, including heckling, is encouraged. Please join us for what promises to be a challenging and entertaining debate.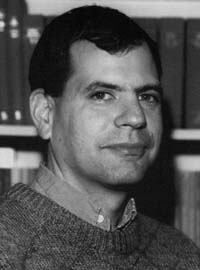 Why Commercial Culture is Good for the Arts
TYLER COWEN
THURSDAY, SEPTEMBER 27, 2001
Among the most contentiously debated questions in the seminar and speakers series Art and Democracy are those pertaining to the compatibility or incompatibility of artistic excellence with modern democratic, egalitarian ideals. Tyler Cowen, a brilliant young economist from George Mason University, sees the capitalist market economy as "a vital but under appreciated institutional framework for supporting a plurality of coexisting artistic visions, providing a steady stream of new and satisfying creations, helping consumers and artists refine their tastes, and paying homage to the eclipsed past by capturing, reproducing, and disseminating it." Arguing from what the author calls a "cultural optimist" perspective, Cowen, in his In Praise of Commercial Culture, avers that "market exchange and capitalism produce diverse art, rather than art that appeals to one particular set of tastes."

Professor Cowen combines extraordinary erudition in music, literature, and art with a comprehensive master of classical and market economics. The author of many books, articles, and reviews, his titles include In Praise of Commercial Culture (1998), What Price Fame? (2000) and the forthcoming Minerva's Owl: The Sources of Creative Global Culture (2002). Since 1989 he has taught at George Mason, where he is a Fellow of the James M. Buchanan Center for Political Economy and holder of the Holbert C. Harris Chair of Economics.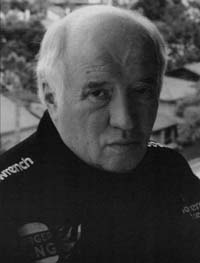 At Home in the Neon: Why Las Vegas Welcomes Serious Art
DAVE HICKEY
MONDAY, OCTOBER 1, 2001
It comes as no surprise that Las Vegas, long scorned as the city of drive-through weddings and garishly glittering casinos, has never enjoyed a reputation for being a capital of high culture. Yet in this modern-day Gomorrah, in this final resting-place of fatuous hopes and forgotten-but-not-gone "celebrities," Kandinskys and Caravaggios have found a comfortable coexistence with keno and craps tables, as have Venetian panoramas with video poker, and Florentine sculpture with the floor shows.

As improbable as these developments may seem, the odds that Dave Hickey would become one of America's most widely read and influential art critics must have been even longer. Jay Tolson offered in a US. News and World Report profile that one way to picture Hickey might be to "imagine a cross between the Victorian aesthete Walter Pater and gonzo journalist Hunter S. Thompson." Yet those who know of Hickey's numerous publications (which include Air Guitar: Essays on Art and Democracy (1997) and The Invisible Dragon: Four Essays on Beauty (1994) and diverse professional pursuits (which include stints a rock musician, a ranch hand, a day laborer, a gallery owner, and executive editor of Art in America) might suggest another admixture: George Santayana and Carlos Santana. The point is, he defies easy categorization. This son of an itinerant jazz musician and "Marxist painter" has punched clocks and cows, as well as holes in the pomposity of what he calls "cultural bureaucrats" and non-egalitarian critics. Currently a professor of Art and Critical Theory at the University of Nevada at Las Vegas, Hickey's essays and interviews have been featured in such publications as Harpers, the Los Angeles Times, Rolling Stone, and Vanity Fair. His Athenaeum presentation will be the third in the Gould Center for Humanistic Studies series Art and Democracy.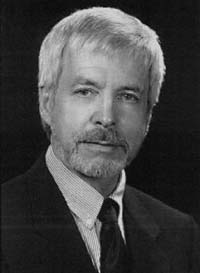 Psychopaths and Their Nature: Some Clues from Cognitive Neuroscience
ROBERT HARE
TUESDAY, OCTOBER 2, 2001
Psychopaths tend to be glib and charming. They also tend to be callous, violent, remorseless and unable to experience the normal depth and range of human emotion. Robert Hare is Emeritus Professor of Psychology at the University of British Columbia and the leading authority on psychopaths. As a researcher, he has studied the development of psychopathy and has created the most widely used test for assessing psychopaths. Professor Hare has consulted with the FBI and RCMP and is on the advisory panel established by the English Prison Service to develop new programs for the treatments of psychopathic criminals. His recent book, Without Conscience: The Disturbing World of Psychopaths Among Us (1993), summarizes his research for a general audience.

Hare is the recipient of the 2001 awards for Outstanding Contributions to Forensic Psychiatry and Psychiatric Jurisprudence, The American Academy of Forensic Psychology's Award for Distinguished Applications, and the Silver Medal of the Queen Sophia Center in Valencia, Spain.

Hare's talk is second in the series Psychology and Law. Upcoming speakers will include Piers Bannister of Amnesty International, London, (10/16) "Human Rights and the Death Penalty in the USA: An International Perspective" and Shari Diamond, Northwestern University Law School, (11/13) "Understanding Juries."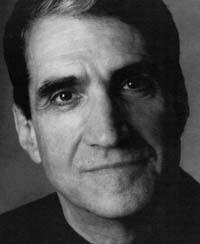 The Favorite Poem Project
ROBERT PINSKY
WEDNESDAY, OCTOBER 3, 2001
"If a poem is written well," Robert Pinsky avers, "it was written with the poet's voice and for a voice. Reading a poem silently instead of saying a poem is like the difference between staring at sheet music and actually humming or playing the music on an instrument." Out of Pinsky's own deeply felt commitment the Favorite Poem Project was born.

In 1997 Pinsky, the most recognized and revered of contemporary American poets, was named United States Poet Laureate and Consultant in Poetry to the Library of Congress. In the latter capacity he conceived and curated the Favorite Poem Project, which he launched in April 1998 (National Poetry Month) with readings in Boston, Los Angeles, New York, St. Louis, and Washington. Since that auspicious beginning, the project has continued to thrive, with Americans aged 4 to 99 having already submitted more than 18,000 entries, many of which were included in Americans' Favorite Poems (1999), an anthology now in its sixth printing. The first 50 videotaped readings became a permanent part of the Archive of Recorded Poetry and Literature at the Library of Congress, with a justifiably proud Pinsky reporting that "this will be a gift to the nation's future, an archive that may come to represent, in a form both individual and public, the collective cultural consciousness of the American people at the turn of the century."

Pinsky's Athenaeum presentation, the fourth in the Gould Center for Humanistic Studies series "Art and Democracy," will feature several of these videotaped readings, as well as his own comments and reflections.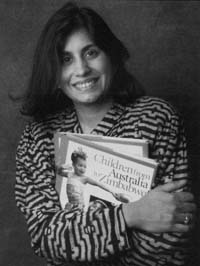 Social Entrepreneurship and Venture Philanthropy: The Evolution of the Global Fund for Children
MAYA AJMERA
THURSDAY, OCTOBER 4, 2001
While today's market-driven economy usually focuses on the accumulation of financial riches, Maya Ajmera is more concerned with another kind of wealth: social wealth. Understanding that the resources of social wealth are the world's children, she founded The Global Fund for Children (GFC) in 1994. In her Athenaeum lecture, Ajmera, the fund's executive director, will provide a glimpse of her journey to begin, build, and sustain GFC. She will also provide insights on nonprofit and for-profit collaborations and venture philanthropy intertwined with advancing the human rights of children and youth around the world.

GFC is a global grant-making organization that invests in community-based organizations serving vulnerable children's groups such as child laborers, street children, AIDS orphans, females, and other disadvantaged groups around the world. Ajmera is also the founder of GFC's children's book publishing venture, Shakti for Children. Shakti, named for a Hindu goddess renowned for empowering communities and protecting children, has developed many award-winning titles, including Children from Australia to Zimbabwe: A Photographic Journey Around the World (1997), To Be A Kid (1999), and Extraordinary Girls (1999).

Ajmera received her AB in biology from Bryn Mawr College in 1990 and an MPP from the Sanford Institute of Public Policy at Duke University in 1994. She also studied and traveled in Southeast Asia as a Rotary Scholar. Her previous professional experiences include serving as the Special Assistant to the President of the Population Institute and a consultant for Family Health International.

Currently, Ajmera serves on the National Executive Board of the Frank Porter Graham Child Development Center at the University of North Carolina at Chapel Hill and Washington Area Women's Foundation and the Advisory Boards of Youth Philanthropy Worldwide and the Emerging Markets Foundation.

Maya Ajmera's visit to CMC is cosponsored by the Kravis Leadership Institute and the Berger Institute for Work, Family, and Children.
NEXT FORTNIGHTLY
Monday, October 8, 2001
Tamara Nameroff, Head of Policy Affairs, The American Chemical Society, "Revolutionary Chemistry for Sustainable Development"

Tuesday, October 9, 2001
Norman Podhoretz, editor at large, Commentary magazine, "My Love Affair with America: The Cautionary Tale of a Cheerful Conservative"

Wednesday, October 10, 2001
William Gerberding; president emeritus, University of Washington, "Reflections on the Conduct of U.S. Foreign Policy: A Forty-Year Perspective"

Monday, October 15, 2001
Lee Konitz, saxophone, and the American Jazz Institute orchestra, Mark Masters, conductor

Tuesday, October 16, 2001
Piers Bannister, director of research on the death penalty, Amnesty International, London, "Human Rights and the Death Penalty in the USA: An International Perspective"

Wednesday, October 17, 2001
P.J. O'Rourke, foreign affairs desk chief, Rolling Stone, author of Parliament of Whores: A Lone Humorist Attempts to Explain the Entire U.S. Government (1991) and Eat the Rich (1998), "The Politics of Worry: Government vs. the Free Market, Which is Worse?"

Thursday, October 18, 2001
Laurie Garrett, Pulitzer Prize-winning journalist, New York Newsday, and author of The Coming Plague: Newly Emerging Diseases in a World Out of Balance (1994), "The Betrayal of Trust: The Collapse of Global Public Health"

Wednesday, October 24, 2001
Deborah Buck; violinist, a recital of classical music for violin and piano

Thursday, October 25, 2001
Arlene Saxonhouse, professor of political science, University of Michigan, "Machiavelli's Women" (Phi Beta Kappa Visiting Scholar)
ATHENAEUM POLICY
The Athenaeum serves as a gathering place where ideas, inquiry, and fellowship bring students, faculty, staff, other scholars, and nationally prominent speakers together. Attendance at any event may be limited to persons associated with CMC, to people who signed up for the dinner, or to the maximum number of people allowed by fire regulations. On some occasions the speaker may address the group in another forum or the College may set up a video feed to handle an overflow crowd. House rules and common courtesy prohibit disruptive actions inside the building during an Athenaeum-sponsored program. Time allowing, there will be a period set aside for questions. Students will have priority during this portion of the program. The Athenaeum has a dress code for dinner. Business attire is preferred-no shorts, jeans, or t-shitrs.