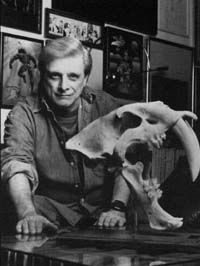 The Flight of the Curmudgeon: A Difficult Evening with Harlan Ellison
HARLAN ELLISON
MONDAY, SEPTEMBER 24, 2001
Called "one of the great living American short story writers" by the Washington Post Book World, Harlan Ellison is perhaps unequaled in the world of fantasy fiction. We are grateful that Ellison is willing to take a break from his busy writing and convention schedule to come to the Athenaeum.

"Repent, Harlequin," Said the Ticktockman (1965) and I Have No Mouth & I Must Scream (1967) are among his 75 novels and some 1700 short stories, essays, and articles. Over his 50-year career, Ellison has touched every imaginable medium. He has created fantasies for The Twilight Zone, The Outer Limits, Star Trek, and Babylon 5. To gain background on juvenile delinquency for his first novel, Ellison took an assumed name and joined a kid gang in Brooklyn for ten weeks. More recently, he completed projects with National Public Radio and published his first computer game, despite never owning a computer himself. Ellison is currently working with Miramax's Dimension Films to develop a theatrical feature based upon an Outer Limits script.

Ellison has been the recipient of the Writers Guild of America Most Outstanding Teleplay Award an unprecedented four times. He won the Mystery Writers of American Edgar Allan Poe Award, the Horror Writers Association Lifetime Achievement Award, and the Ray Bradbury Award, among many others. His script for Star Trek, "City on the Edge of Forever," became perhaps the best-loved episode of the series.

Known for actually creating stories in the windows of bookstores from Paris to New York in full view of large audiences, Ellison is no ordinary author on the speaker's circuit. In his "performance" at the Athenaeum, Ellison will draw on his fifty-year career for what promises to be an interesting and unusual evening.