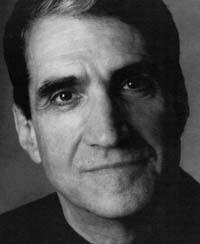 The Favorite Poem Project
ROBERT PINSKY
WEDNESDAY, OCTOBER 3, 2001
"If a poem is written well," Robert Pinsky avers, "it was written with the poet's voice and for a voice. Reading a poem silently instead of saying a poem is like the difference between staring at sheet music and actually humming or playing the music on an instrument." Out of Pinsky's own deeply felt commitment the Favorite Poem Project was born.

In 1997 Pinsky, the most recognized and revered of contemporary American poets, was named United States Poet Laureate and Consultant in Poetry to the Library of Congress. In the latter capacity he conceived and curated the Favorite Poem Project, which he launched in April 1998 (National Poetry Month) with readings in Boston, Los Angeles, New York, St. Louis, and Washington. Since that auspicious beginning, the project has continued to thrive, with Americans aged 4 to 99 having already submitted more than 18,000 entries, many of which were included in Americans' Favorite Poems (1999), an anthology now in its sixth printing. The first 50 videotaped readings became a permanent part of the Archive of Recorded Poetry and Literature at the Library of Congress, with a justifiably proud Pinsky reporting that "this will be a gift to the nation's future, an archive that may come to represent, in a form both individual and public, the collective cultural consciousness of the American people at the turn of the century."

Pinsky's Athenaeum presentation, the fourth in the Gould Center for Humanistic Studies series "Art and Democracy," will feature several of these videotaped readings, as well as his own comments and reflections.