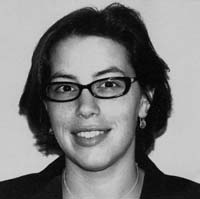 Revolutionary Chemistry for Sustainable Development
TAMARA NAMEROFF
MONDAY, OCTOBER 8, 2001
Chemistry is at the heart of processes and products that meet our most fundamental needs for food, shelter, and health. We also use chemistry to develop materials vital to advances in biotechnology, computing, and telecommunications. While chemistry has unquestionably improved our lives, these advances have also created unintended environmental problems. Green chemistry is a fundamental shift away from the traditional model of using laws and regulations to protect the environment. It is a new way of thinking about how this central science can minimize risk to consumers and reduce environmental impacts. It uses renewable resources rather than nonrenewable ones to produce products. Many forward-looking companies are embracing green chemistry-not only to protect the environment, but because it is good for the bottom line. Public policy can speed the adoption of this revolutionary chemistry. Tamara Nameroff's presentation will explore how green chemistry is moving from the laboratory to full-scale production. She will also discuss policy options to create incentives and overcome roadblocks to the adoption of green chemistry by scientists, stakeholders, and industry.

Nameroff is the Head of Policy Affairs at the American Chemical Society, the world's largest scientific society. She is responsible for developing, managing, and administering the Society's policy analysis and outreach programs. A chemist by training, she was the 1996-97 Geological Society of America Congressional Science Fellow. She spent her fellowship year in the office of Senator Joe Lieberman (D-CT) where she worked on environmental and natural resource issues. After the fellowship, she was the Climate Task Force Coordinator for President Clinton's Council on Sustainable Development, where she worked with stakeholders from industry, environmental groups, and all levels of government to develop consensus options to reduce greenhouse gas emissions. Her Ph.D. in analytical and environmental chemistry is from the University of Washington.

Tamara Nameroff's lecture is sponsored by the Robert's Environmental Center of Claremont McKenna College.