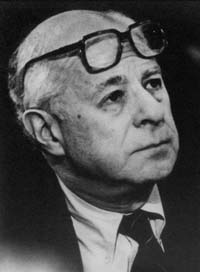 Attack on America
NORMAN PODHORETZ
TUESDAY, OCTOBER 9, 2001
Why has America always been the focus of so much animosity both at home and abroad, despite its nearly universal regard as one of the high points of human civilization? Norman Podhoretz, one of the founding fathers of neoconservatism, will speak to this topic in an Athenaeum address and discussion sponsored by the Salvatori Center of Claremont McKenna College.

Podhoretz, senior fellow at the Hudson Institute and editor-at-large of Commentary magazine, started his career on the political left. However, as the 1960s wore on, he began to confront and to question the most cherished orthodoxies of liberalism, including an indictment of what he felt to be a patronizing, government-oriented approach to racial issues. By the later 1960s he was a trenchant critic of former political bedfellows.

In the 1970s Podhoretz aligned himself squarely with attempts to roll back communism. A member of the Council on Foreign Relations, he was also one of the founders of the now-defunct Committee on the Present Danger and the Committee for the Free World.

Not only a political commentator but also a literary critic, in The Bloody Crossroads: Where Literature and Politics Meet (1986) Podhoretz demonstrated the destructive effects of communism on 20th century writing. Most recently, Podhoretz has published My Love Affair with America: The Cautionary Tale of a Cheerful Conservative (2000) and is just finishing a new book entitled The Prophets: Their World and Their Words in an Age of Idolatry (2002).

Norman Podhoretz was born in Brooklyn, New York, and educated at Columbia University, Cambridge University, and the Jewish Theological Seminary.