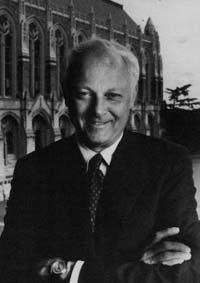 Reflections on the Conduct of U.S. Foreign Policy: A Forty-Year Perspective
WILLIAM GERBERDING
WEDNESDAY, OCTOBER 10, 2001
During the weeks following the attacks on the World Trade Center and the Pentagon, we have all focused our attention on America's foreign affairs. Have our policies over the past four decades changed adequately to meet the new threats of anti-Americanism that led to the terrorist attacks? Do we bear any responsibility for alienating groups with our foreign policy?

Author of United States Foreign Policy: Perspectives and Analysis (1966) -perhaps one of the most influential works of foreign policy in the twentieth century-Gerberding's distinguished background is ideal for a retrospective look at foreign affairs. In his Athenaeum address Gerberding will present a cogent and critical appraisal of the transformations in foreign affairs affecting our policy decisions.

Gerberding earned a B.A. in Philosophy from Macalester College and a Ph.D. in Political Science from the University of Chicago, as well as honorary doctorates from Whitman College and Occidental College. After serving as a Congressional staff member and consultant to the Department of Defense, Gerberding formed an admirable career teaching, conducting research, and overseeing operations at institutions of higher education. His positions are impressive, ranging from Vice President for Academic Affairs at Occidental College, Executive Vice-Chancellor at UCLA, and Chancellor at the University of Illinois at Urbana-Champaign, to President of the University of Washington. Today, William P. Gerberding Hall at the University of Washington stands as a testimony to his distinguished service.

Gerberding currently serves as member or cochairman on numerous boards, including those of the Seattle Opera, the McGraw Hall Campaign, Washington Mutual Inc., and Safeco Corporation. He is trustee of the Gates Cambridge Trust.

Gerberding's lecture at the Athenaeum is sponsored by the Keck Center for International and Strategic Studies. Please join us for a timely reflection on US foreign policy with one of the field's distinguished experts.