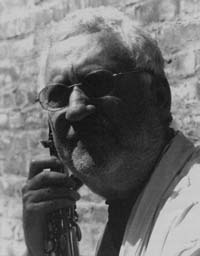 American Jazz Institute Orchestra: An Evening of Jazz
LEE KONITZ, saxophone
MARK MASTERS, conductor, American Jazz Institute orchestra
CHRISTIAN JACOB, piano
GARY FOSTER, saxophone
BILL PERKINS, saxophone
JACK MONTROSE, saxophone
BOB ENEVOLDSEN, trombone
CARL SAUNDERS, trumpet
JOE LABARBERA, drums
PUTTER SMITH, bass
PETE CHRISLIEB, saxophone
ANDY MARTIN, trombone
DAVID WOODLEY, trombone
LES LOVITT, trumpet
KYE PALMER, trumpet
RON STOUT, trumpet
CONTE CANDOLI, trumpet
MONDAY, OCTOBER 15, 2001
Lee Konitz has always been a lone wolf. Never the flashiest or most aggressive of saxophonists, he has nevertheless built a reputation as a living legend from the early days of cool jazz. During his remarkable career Konitz has performed featured solos with the likes of Miles Davis and Lennie Tristano in addition to forming the Lee Konitz Nonet. For Konitz, being a jazz musician means being an improviser, and being an improviser means taking risks and searching for new challenges.

When Konitz first came to prominence in the late 1940s he was one of the very few alto players of the period able to escape the dominating presence of Charlie Parker to create a completely personal, recognizable sound and style on the instrument. He developed a demeanor that was thoughtful and reserved, and a tone nearly transparent but with a lithe lyricism and a resilience that suggests shadowy undercurrents of emotion.

In addition to committing his time to jazz education, Konitz currently tours extensively throughout Europe and Japan and continues to present his music with a mature and creative perspective.

Please join us for an outstanding evening of jazz featuring Lee Konitz with the American Jazz Institute Orchestra, Mark Masters conductor.