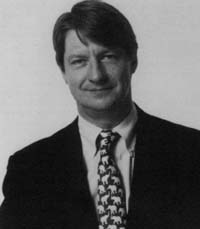 The Politics of Worry: Government vs. the Free Market, Which is Worse?
P. J. O'ROURKE
WEDNESDAY, OCTOBER 17, 2001
P. J. O'Rourke is an equal-opportunity satirist. Though he considers himself a "cigar-smoking conservative," he ridicules all political persuasions. As he is famous for saying, "Giving money and power to government is like giving whiskey and car keys to teenage boys." On the other hand, O'Rourke has serious concerns about the government not controlling at least a portion of the money and power. So, which is worse? The government or the free market? In his Athenaeum lecture, O'Rourke will examine this subject and other political issues pertinent to contemporary society.

O'Rourke attended Miami University in Oxford, Ohio, and graduate school at Johns Hopkins, where he was a Woodrow Wilson Fellow. After receiving an M.A. in English, he began a career in journalism at small newspapers in Baltimore and New York.

In the 1970s O'Rourke became the editor-in-chief of The National Lampoon and played a key role in the 1964 High School Yearbook Parody (1974). A decade later as a roving reporter, O'Rourke covered the civil war in Lebanon, the Palestinian uprising, the troubles in Northern Ireland, the fall of the Berlin Wall, the Gulf War, and other conflicts and crises. His skill in investigative reporting eventually landed him the job as foreign affairs editor and political writer for Rolling Stone Magazine.

Besides his job at Rolling Stone, O'Rourke has worked for The New York Times, The New Republic, Harper's, Esquire, Forbes, and Parade. He has also written nine bestselling books, including Parliament of Whores: A Lone Homorist Attempts to Explain the Entire U.S. Government (1991), Give War a Chance (1992) and Eat the Rich (1998).

With over one-million words of journalism, appearances on programs such as Politically Incorrect and Larry King Live, and more citations in The Penguin Dictionary of Humorous Quotations than any other writer alive, O'Rourke has established himself as America's premier political satirist.

P.J. O'Rourke's Athenaeum appearance is sponsored by the Salvatori Center for the Study of Individual Freedom in the Modern World and the Marian Miner Cook Athenaeum. The dinner is available for CMC persons only. The talk is open to all on a first-come basis, no reservations required.