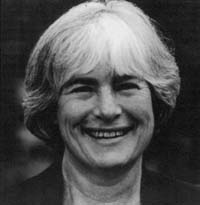 Machiavelli's Women
ARLENE SAXONHOUSE
THURSDAY, OCTOBER 25, 2001
If one wants to read the classic works of political philosophy, he or she is limited to books written by male authors. Unfortunately, it often seems like these male political philosophers were only concerned with the male citizen. However, Arlene Saxonhouse, a professor of Political Science and Women's Studies at the University of Michigan, argues that these classic authors-from Plato to Machiavelli-acknowledged the existence of a private sphere that included women but set limits upon and defined the possibilities of the public world. In her Athenaeum lecture Saxonhouse will discuss how the treatment of women in Machiavelli has been an integral part of the work's understanding. How do the women who appear in Machiavelli's writings make him less "Machiavellian" but more radical?

In praise of her book Women in the History of Political Thought: Ancient Greece to Machiavelli (1985), the American Political Science Review averred that "This important book raises questions that are central to the study of women and the understanding of political life ...Saxonhouse's book makes a significant contribution to both the history of political thought and contemporary feminist theory."

Saxonhouse is the also author of Fear of Diversity: The Birth of Political Science in Ancient Greek Thought (1992), Athenian Democracy: Modern Mythmakers and Ancient Theorists (1996). Additionally, she is the co-author of Hobbes' Three Discourses: A Modern, Critical Edition of Newly Identified Works by the Young Thomas Hobbes (1995). She currently serves on the editorial boards of the Series in Women and Politics, University of Nebraska Press, the American Political Science Review, and the Review of Politics.

Saxonhouse earned her A.B. from Oberlin College, where she was a member of the Phi Beta Kappa honor society. She went on to earn her Ph.D. in political science from Yale University in 1972. She has twice been a fellow at the Center for Advanced Study in the Behavioral Sciences and was a recipient of Michigan's Distinguished Faculty Achievement Award. A fellow of the American Academy of Arts and Sciences, Saxonhouse served as vice-president of the American Political Science Association and as the president of the Midwest Political Science Association.

Arlene Saxonhouse comes to Claremont McKenna College and the Marian Miner Cook Athenaeum as Phi Beta Kappa's Visiting Scholar.