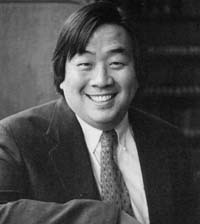 September 11, Human Rights, and the Rule of Law
HAROLD KOH
THURSDAY, NOVEMBER 8, 2001
The September 11 tragedy has shaken America to the core. Our attention has been riveted to the United States' effort to develop an effective international and domestic response to these illegal human rights violations. But in developing that response, how should the United States take concerns about human rights and the rule of law into account?

A prominent human rights and democracy expert, Professor Harold Hongju Koh will lead us in a discussion of America's proper response. He served as Assistant Secretary of State for Democracy, Human Rights and Labor under the Clinton Administration and is currently Gerard C. and Bernice Latrobe Smith Professor of International Law at Yale Law School.

The recipient of degrees from Harvard, Oxford, and Harvard Law School, Koh served as law clerk to justice Harry Blackman of the U.S. Supreme Court. He practiced law at the Washington D.C. law firm of Covington and Burling and at the Office of Legal Counsel at the U.S. Department of Justice. Koh has written or coauthored more than 70 articles and several books, including Deliberative Democracy and Human Rights (1999), Transnational Legal Problems (1990), and The National Security Constitution: Sharing Power after the Iran-Contra Affair (1990), which won the American Political Science Association's award for the best book on the American Presidency.

Professor Koh is a Fellow of the American Academy of Arts and Sciences. He is an Overseer of Harvard and serves on the editorial board of the American Journal of International Law. He has received six honorary degrees and numerous awards for his human rights work, which includes representation of Haitian and Cuban refugees before the United States Supreme Court.

Koh was named among America's 45 leading public sector lawyers under the age of 45 by American Lawyer magazine and among the 100 most influential Asian-Americans of the 1990s by A Magazine. Koh's lecture is sponsored by The Keck Center for International and Strategic Studies.