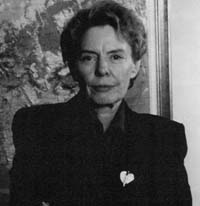 Year 2001: Global Issues
JEANE KIRKPATRICK
TUESDAY, OCTOBER 30, 2001 4:00 p.m.
MARY PICKFORD AUDITORIUM
President Ronald Reagan called Jeane Kirkpatrick "a giant among the diplomats of the world." A scholar, political scientist, and advocate for America's foreign policy, Kirkpatrick is one of the modern era's experts on geopolitical issues. Appointed in 1981, she was the first woman to serve as U.S. Permanent Representative to the United Nations. Kirkpatrick also served as a member of President Reagan's Cabinet and National Security Council. These experiences have given her an exceptional understanding of the dynamics of global politics.

Because of her notable and consistent service to the United States, Kirkpatrick was awarded the Medal of Freedom, the nation's highest civilian honor. She also received the French Prize Politique for political courage, two U.S. Distinguished Public Service Medals, and presidential medals from the Czech Republic, Hungary, and Israel.

Kirkpatrick is the Leavey Professor of Government at Georgetown University and is a regular contributor to various newspapers, magazines, and journals. Additionally, she is a senior fellow and Director of Foreign and Defense Polity Studies at the American Enterprise Institute and serves as codirector of Empower America. Kirkpatrick is the author of several books, monographs, and articles dealing with American political issues and foreign policy. Her latest book, Good Intentions: Lost on the Road to the New World Order (2001), is forthcoming.

Kirkpatrick's visit to Claremont is sponsored by the Res Publica Society, an organization of friends and supporters of Claremont McKenna College. Kirkpatrick will address students, faculty, staff and members of the community in Mary Pickford Auditorium at 4 o'clock in the afternoon. The lecture is open and without charge. Seating is limited and on a first-come basis.