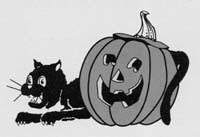 Dramatic Readings of the Literary and of the Palm!
SECOND ANNUAL HALLOWEEN PARTY
WEDNESDAY, OCTOBER 31, 2001
You're worried about that nasty calculus test? It's nothing. CMC's Under the Lights acting troupe will really give you something to be scared about. Join other brave souls at the Athenaeum on Halloween for an evening of dramatic readings. Building on the eventful night last year that left one Athenaeum Fellow unconscious, Under the Lights promises us that they have even bigger plans for this year ....

A frightfully good dinner specially prepared by Chef David Skinner and Pastry Chef Srirat Vichaita will serve to plump up the evening's guests. (Last year, attendees delighted themselves in chicken fingers as never seen before.) Later, following the dramatic reading, those still alive-be they Stag or Athena, ghoul or demon-will descend upon Frazee Game Room for readings of a different sort: psychic readings. So how will that calc test turn out? What does that cute senior think of you? Bring your questions-and your palms-for psychic insight.

The Halloween parry is sponsored by the Athenaeum and Student Activity Director Jim Nauls, and both parties note that they must unfortunately disclaim liability for any tragic, untimely disappearances ....

Costumes, while not required, are encouraged.