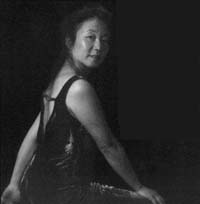 Music of Bach, Chopin, Messiaen, Rzewski, and Crumb
KATHY SAWADA, piano
MONDAY, NOVEMBER 5, 2001
Sawada always has something to say, and she says it both intelligently and musically. A breath of fresh air.

-Bill Vestal, director, Sundays at Four series, L.A. County Museum of Art.

Simone Belsky Competition finalist (1999) Kathy Sawada has established herself as an adventurous pianist of "superb . . . emotional and passionate playing" (Carl Schurtz, composer). She is a much-anticipated regular at the Sundays at Four series at the Los Angeles County Museum of Art and various other Southern California venues, such as the Westwood Friends of Music series, and Second Sunday Concerts in Pasadena.

Eclectic and provocative, in her Athenaeum recital, Kathy Sawada will mix contemporary and classic with an exciting program that includes Rzewski's The Days Fly By, two pieces from Messiaen's Vingt Regards sur L'Enfant Jesus, and selections by Crumb, Bach, and Chopin. Focusing on the context of sound, Sawada often presents pieces that bring out unfamiliar resonances and connections. These "aural feasts" are a hallmark of her performances. A skilled master teacher, Kathy Sawada will also place each piece in a meaningful context.

Kathy Sawada received her Bachelor of Arts from Oberlin College where she studied with Leon Bates. At Yale University, she earned her Master of Divinity and studied piano with Elizabeth Parisot. She received her Master of Music degree from the Manhattan School of Music, where she was a piano student of Dalmo Carta and a composition student of Mils Vigelan. In Los Angeles Ms. Sawada's source of inspiration is the highly regarded champion of modern pianism, Delores Stevens.