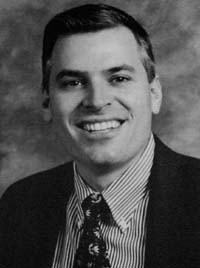 The Five Temptations of a Leader
PATRICK LENCIONI '87
MONDAY, NOVEMBER 12, 2001
Since Claremont McKenna's slogan is "Leaders in the Making," it is not surprising that its graduates become presidents and CEOs of companies after graduation. Patrick Lencioni is one such leader. He is the founder and president of The Table Group management consulting firm. He returns to campus to speak about the subject in his best-selling business fiction, The Five Temptations of a CEO: A Leadership Fable (1998).

Lencioni has been speaking, consulting, and writing about topics related to leadership, change, and corporate culture since founding his company in 1997. While coaching and consulting to CEOs and other executives, he observed fundamental behavioral patterns among his clients, which later formed the basis of his leadership theories.

In addition to The Five Temptations of a CEO: A Leadership Fable, Lencioni recently published his second book, The Four Obsessions of an Extraordinary Executive (2000). Furthermore, he has a third book forthcoming-spring of 2002-on how to build teamwork and eliminate organizational politics. In addition to his writing and consulting, Lencioni is a frequent public speaker. He has delivered keynote addresses to audiences that include Novell, Arthur Andersen, Chase Capital, Elan Pharmaceuticals, TEC Worldwide, Canada's Top 40 Under 40, Massachusetts Institute of Technology, Avnet, Inc., Lucas Digital, and Young Entrepreneurs' Organization.

Prior to establishing The Table Group, Lencioni worked at Bain & Company, Oracle Corporation, and Sybase, where he was Vice President of Organizational Development. He is on numerous advisory boards, and sits on the National Board of Directors for the Make-a-Wish Foundation.

Lencioni's Athenaeum appearance is sponsored by the Kravis Leadership Institute as a precursor to the Kravis-deRoulet Conference in February. The topic this year is "Improving Leadership in Nonprofit Organizations." While Patrick Lencioni is not primarily in the nonprofit arena, some of his remarks will include transferability of organizational leadership strategies and capabilities from the for-profit to the nonprofit sectors.

Please join us for this interesting Athenaeum lecture by one of CMC's distinguished alumni.