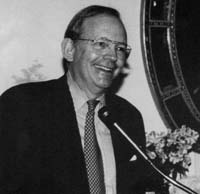 Where Do We Go From Here?
ANTHONY LAKE
THURSDAY, NOVEMBER 15, 2001
As the United States embarks on its sweeping war against international terrorism, finds new allies and cements relationships with old ones in the wake of the September 11 tragedy, it becomes both timely and important to assess the future direction of U.S. foreign policy.

In his Athenaeum address, Dr. Anthony Lake will analyze how the war is conducted and the implications and effects it may have on the way the U.S. will approach the world in the future. He is currently Distinguished Professor in the Practice of Diplomacy at the Edmund A. Walsh School of Foreign Service at Georgetown University and Chairman of INTELLIBRIDGE, an information services company. He served as Assistant to the President for National Security Affairs from 1993-1997, under the Clinton Administration, and was Five College Professor of International Relations at Amherst and Mount Holyoke colleges from 1981-1992.

Lake received his A.B., magna cum laude, from Harvard University, read international economics at Trinity College, Cambridge, and received his Ph.D. from the Woodrow Wilson School of Public and International Affairs at Princeton University. In 1962, he joined the State Department as a Foreign Service Officer with assignments in Vietnam and as Special Assistant to the Assistant to the President for National Security Affairs (1969-70). He returned to the State Department in 1977 to serve as Director of Policy Planning for President Carter until 1981.

In addition to having written several books, including 6 Nightmares (2000), Somoza Falling (1989), Our Own Worst Enemy: The Unmaking of American Foreign Policy (coauthored) (1984) and The "Tar Baby" Option: American Foreign Policy Toward Southern Rhodesia (1976), he edited After the Wars (1990). He also served as contributing editor of Legacy of Vietnam: The War, American Society, and the Future of U.S. Foreign Polity (1976).

Dr. Lake's lecture is sponsored by The Keck Center for International and Strategic Studies.