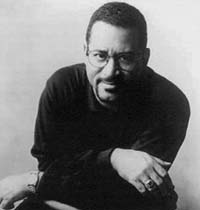 Martin Luther King, Jr. Commemoration
MICHAEL ERIC DYSON
MONDAY, JANUARY 28, 2002
MCKENNA AUDITORIUM 7:00 p.m.
Dyson . . . emerges as a major American thinker and cultural critic .... We would do well to exchange the one dimensional King we drag out every year for Dyson's multidimensional, flawed, but exceptional one.

-Farrah Jasmine Griffin, The Philadelphia Inquirer

Dyson crushes the rose-colored lenses through which the civil-rights martyr has been viewed since his assassination three decades ago .... In the tradition of jazz saxophonists John Coltrane and Charlie Parker, Dyson riffs with speed, eloquence, bawdy humor, and startling truths that have the effect of hitting you like a Mack truck.

-Venise Wagner, San Francisco Examiner

A private citizen who transformed the world around him, Michael Eric Dyson argues that few people today understand how truly radical Martin Luther; King, Jr. was. In his provocative new book, I May Not Get There With You: The True Martin Luther King, Jr. (2000), Dyson seeks to restore King's true vitality and complexity and challenges us to embrace the very contradictions that make King relevant in today's world.

Dyson is an ordained Baptist minister and Professor of Religious Studies at DePaul University. Previously he headed the Institute of African American Research at the University of North Carolina at Chapel Hill. Born in 1958 in Detroit, Dyson's father was an autoworker and his mother an employee in the city schools. From an early age Dyson enjoyed reading traditional European classics while also immersing himself in black culture. He graduated from high school in 1976, a teenage father on welfare. A church pastor helped him move forward in his life, and Dyson attended divinity school in Tennessee. He went on to earn his masters and doctoral degrees at Princeton University.

In addition to his examination of King, Dyson's published works include Between God and Gangsta Rap: Bearing Witness to Black Culture (1995), Reflecting Black: African American Cultural Criticism (1993); and Making Malcolm: The Myth and Meaning of Malcolm X (1995). Bringing moral imagination and critical intelligence to bear on the discussion of race in America, Dyson aims to have his words resonate not only with African Americans but with all who would seek a better, more just society.

This lecture by Michael Dyson is sponsored by the Martin Luther King Commemoration Planning Committee of the Claremont Colleges and begins at 7:00 p.m. in McKenna Auditorium.