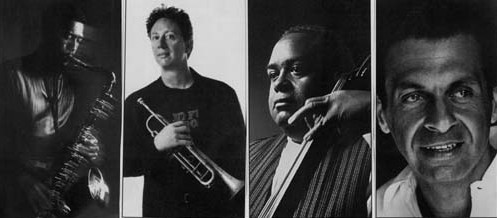 American Jazz Institute Big Band: Porgy & Bess . . .Redefined!
BILLY HARPER, tenor saxophone
TIM HAGANS, trumpet
RAY DRUMMOND '68, bass
MORT SAHL, host
MARK MASTERS, conductor, American Jazz Institute big band


JOE LABARBERA, drums
DAVE WOODLEY, trombone
GARY SMULYAN, baritone saxophone
CECILIA COLEMAN, piano
SCOTT ENGLEBRIGHT, trumpet
BILL ROPER, tuba
LES BENEDICT, trombone
LOUIS FASMAN, trumpet
LES LOVITT, trumpet
DON SHELTON, saxophone and alto flute
ALLEN SAVEDOFF, saxophone and bassoon
STEPHANIE O'KEEFE, french horn
WEDNESDAY, FEBRUARY 6, 2002
George Gershwin's masterpiece, Porgy & Bess, premiered in 1935. Over the years there have been many jazz-based interpretations of this classic score. For Porgy & Bess . . . Redefined! The American Jazz Institute brings together three of the most adventuresome talents on the current jazz scene. Tenor saxophonist Billy Harper, trumpeter Tim Hagans, and bassist Ray Drummond have made significant recorded statements as leaders, as well as lending their superb voices to the projects of many other prominent artists.

Harper is most widely known for his numerous recordings on the DIW and Denon labels, while Hagans has five discs on Blue Note Records. Drummond, a 1968 graduate of CMC, is one of the most recorded contemporary jazz musicians, having worked on nearly 100 albums for over twenty jazz labels.

A brand new, totally original approach to Porgy & Bess has been conceived by AJI's Mark Masters to feature these major improvisational talents. Featured with them will be the distinguished Joe La Barbera (drums), Dave Woodley (trombone), and Gary Smulyan (baritone sax).

For forty years, Mort Sahl has been telling audiences what is on his mind. Lauded for his unique brand of political satire, Sahl was the first humorist on the cover of Time. The first nonmusician to win a Grammy, he also hosted the inaugural Playboy and Monterey jazz festivals. Sahl's approach to stand-up humor is much like a great improvising jazz artist-totally spontaneous. A serious jazz fan, the Athenaeum is pleased to welcome Mort Sahl as host for this special concert, sponsored by the Gould Center for Humanistic Studies and the Marian Miner Cook Athenaeum.