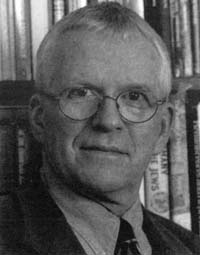 Nazi Concentration Camps and German Society
ROBERT GELLATELY
THURSDAY, FEBRUARY 7, 2002
What induces people to follow a charismatic leader whose intentions include mass murder? What roles do religious leaders and institutions play in aiding, condoning, or preventing the destruction of human life? How do such events enter in the collective memory and shape a public consciousness? In the wake of disaster, can there be justice or material recompense for victims?

The events of September 11th provoke these questions, but they are not new ones. The Holocaust also induces scholars to explore these fundamental historical and philosophical issues. In conjunction with this semester's European Union seminar, Researching the Holocaust, taught by CMC Professors John Roth and Jonathan Petropoulos, the Athenaeum and the Gould Center for Humanistic Studies are pleased to feature four internationally recognized experts. They will address compelling topics that are relevant not only for our understanding of the past, but also for reckoning with our current circumstances.

Robert Gellately, Strassler Professor in Holocaust History at Clark University, and author of recently published Backing Hitler: Consent and Coercion in Nazi Germany (2001), will speak on the Germans' support for Hitler and his genocidal policies. Gellately will deliver the Gould Center's Golo Mann Lecture, which is also the first lecture in the series, The Holocaust in a Post-September 11th world.

Susan Zucotti, whose important study, Under His Very Windows: The Vatican and the Holocaust in Italy (2000), received the National Jewish Book Award in the category of Jewish-Christian relations, will discuss contemporary issues surrounding Pope Pius XII, who led the Roman Catholic Church during the years of the Holocaust. (March 6)

Berel Lang, author of The Future of the Holocaust: Between History and Memory (1999), Professor of Humanities at Trinity College in Hartford Connecticut, and the 2001-2002 Ina Levine Invitational Scholar at the United States Holocaust Memorial Museum, will explore how memory of catastrophic events affects the present and the future. (April 8)

Stuart Eizenstat, former Deputy Secretary of the Treasury, member of the Presidential Commission on Holocaust Assets in the United States, and a primary architect of the Fund of German Industry for Victims of Nazi Slave and Forced Labor, will deliver a talk titled after his recent book Imperfect Justice: The Unfinished Business of World War II (2002). (April 18)

The focus of these talks will be historical, but as these lectures will illustrate, the themes they explore have a special relevance in a post-Holocaust, post-September 11th world.