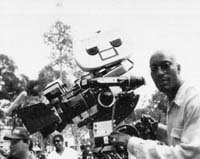 The World According to John Singleton: Film and Society
JOHN SINGLETON
MONDAY, FEBRUARY 11, 2002
Producer, director, and screenwriter John Singleton most recently wrote, produced, and directed Baby Boy (2001), starring singer Tyrese, Ving Rhames, Snoop Dogg, and newcomer Taraji P. Henson. Baby Boy has received four NAACP nominations. He also wrote, produced, and directed Shaft (2000), starring Samuel Jackson for Paramount Pictures; Higher Learning (1995), starring Omar Epps and Laurence Fishburne; and Poetic Justice (1993), starring Janet Jackson. He also directed Rosewood (1997), starring Jon Voight and Ving Rhames.

While Singleton was attending the Filmic Writing Program at USC, he won three writing awards from the university, which led to a contract with Creative Artist Agency during his sophomore year. He was also a recipient of the John Nicholson Award in 1989 and 1990, and the Robert Riskin Award in 1989.

Singleton exploded onto the scene with his first film, Boyz N the Hood (1991), a tough, intelligent, plain-speaking look at friends in gang-ridden South Central L.A. that earned him Oscar nominations for Best Original Screenplay and Best Director, becoming the first African-American (and the youngest filmmaker ever) to do so. Singleton's numerous awards include the LAFCA New Generation Award (1991), the MTV Movie Award for Best New Filmmaker in 1992, the New York Film Critics Circle Award for Best New Director (Boyz N the Hood) 1991, and finally the ShoWest Award for Screenwriter of the Year, and the Special Award for Directorial Debut of the Year, 1992.

John Singleton is currently developing a film for the big screen titled Sinbad, and a film about the twist and turns in the music business titled Flow. He has also directed several television commercials for Coca-Cola and AT&T with D.L. Hughley.