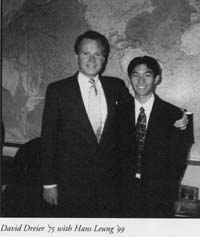 Reflections on the 107th Congress: What's Been Accomplished and What Lies Ahead
DAVID DREIER '75
TUESDAY, FEBRUARY 19, 2002 LUNCH
Since his election in 1980, Congressman David Dreier has been a driving force in the United States House of Representatives. An advocate for U.S. global leadership and a limited, but effective, government, Congressman Dreier has worked to become a leader both in Washington and at home.

Because of his outstanding record and achievements representing California's 28th Congressional district, Congressman Dreier was appointed Chairman of the House Committee on Rules in January 1999. The first Californian-and one of the youngest members-appointed as Chairman, he has worked to pass important legislation on education, Social Security, taxes, and national security. In addition to his work on the House Committee on Rules, Congressman Dreier's colleagues from California unanimously voted him to chair the State's Republican Congressional Delegation last May.

Congressman Dreier graduated cum laude from Claremont McKenna College in 1975 and earned his master's degree in American Government from Claremont Graduate University the following year. He is the recipient of numerous awards and honors including ten successive Golden Bulldog awards from the Watchdogs of the Treasury, the Clean Air Award from the Sierra Club, and the Guardian of Small Business Award from the National Federation of Independent Business.

The Pacesetters Fellowship Program is the culmination of the hard work and dedication of alumni from the classes of 1948, 1949, and 1950-the Pacesetters. The program attracts leaders in business, academia, and public affairs to Claremont McKenna College for classroom visits and one-on-one interactions with students. Congressman Dreier is the second Pacesetters Fellow.