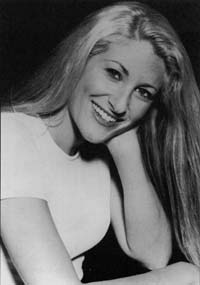 From CMC to the Kentucky Derby: Following Your Passion
BETSY BERNS '90
SATURDAY, MARCH 2, 2002 LUNCH
As a highlight of a year-long commemoration, Claremont McKenna College, the Alumni Association, and the Women's Forum, present a Symposium Celebrating 25 Years of Coeducation. The symposium will feature panel discussions with alumni and faculty speakers and a keynote address by Betsy Berns '90, Founder/President of BVision Sportsmedia, L.P. Berns has dedicated her professional career to making mainstream sports more accessible to women. She is the author of The Female Fan Guide to Pro Football (1999), The Female Fan Guide to Motorsports (2000), and the recently released Win, Place, and Show: An Introduction to the Thrill of Thoroughbred Horse Racing (2001).

Additionally, from the fall of 1999 through spring of 2000, Berns served as Senior Producer for sports for the Internet site Oxygen.com. From 1996-98 she was an online columnist for CBS SportsLine.

Berns has served as a consultant to the National Football League, for which she developed, designed and implemented their "Football 101" instructional series for women, which is now offered by the league in every NFL market. Berns has also worked with numerous sponsors to reach female sports fans. She created and executed a nationwide search for football's "ultimate female fan" sponsored by Procter & Gamble, Norwegian Cruise Lines, and CBS SportsLine. She has written for, or been featured in, USA Today, Extra, ABC World News Tonight, Fox News Channel, Comedy Central, and Sport magazine.

Berns has an MBA From the J. L. Kellogg Graduate School of Management at Northwestern University, and a bachelor's degree from Claremont McKenna College.

Berns, who grew up as the youngest child in a family with three older brothers, began learning about sports at a young age when her brothers gave her tests in basic football knowledge so that she could even out teams in touch football games. She has been an avid fan of the game and of sports ever since.

Lunch begins at 11:45 a.m. Betsy will speak at 12:15 p.m.